2005 Capstone Presentations, Cohort 1
Sheryl Harmer
Director of Program Development, Committee for Children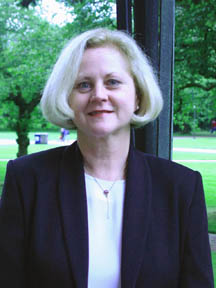 Creating a Context for Success: A Journey of Schools Moving from Policy to Action
Download Executive Summary (Word doc)
June 3, 11am - noon
Miller Hall 112
Sheryl Lorraine Pothier Harmer was born in Weiser, Idaho and has lived and worked in education settings in the Northwest, Germany , and Japan since 1970. She completed her B.A in Education at Idaho State University in 1970, her M.S.Ed. from the University of Southern California in 1976, and Educational Administrator Certificate at Pacific Lutheran University in 1988.
Harmer has been recognized through awards at the national and state levels including the NAESP National Distinguished Principal of the Year for Washington State in 1998, selection of Glenridge Elementary as a case study site for Harvard University Project SUMIT (Schools Using Multiple Intelligence Theory) in 1997-1999, and Spring Glen Elementary as a National Blue Ribbon School of Excellence in 1993. In 1997 she was nominated for the Washington Award for Excellence in Education and in 1996 named Dream Team Principal by a chapter of Ch.A.D.D.(Children with Attention Deficit Disorder). From 1999-2000 Harmer served by appointment of the Washington State Board of Education on the Washington Advisory Council for Professional Administrator Standards.
Harmer's thirty year career in public schools has included teacher for special education and mainstream classes at elementary and high school, administrator of three elementary schools, and instructor in junior college and university teacher preparation programs. She has also supported the University of Washington College of Education in various roles including evaluator for the Center for Assessment of Administrative Performance (CAAP) Assessment Team,as a Danforth Mentor Principal, and as a member of the Professional Education Advisory Board, Teacher Education Program Renewal Committee, and Graduate Degree Review Panel.
Currently, Harmer is the Director of Program Development at Committee for Children – a nonprofit organization based in Seattle , Washington that develops, disseminates, and supports social-emotional learning curricula. In her role, she directs the process of translating prevention research into classroom and school-wide programs. Notable projects she has directed include: revisions of Committee for Children's nationally acclaimed curricula – Second Step ®: A Violence Prevention Curriculum, Talking About Touching ®: A Personal Safety Curriculum, and Steps to Respect ®: A Bullying Prevention Program and development of Woven Word ®: Early Literacy for Life. Harmer is a frequent national presenter on issues of bullying and the creation of effective school environments.
Harmer has two sons and lives in Seattle, Washington.