Art + Mailboxes = Collaboration @UWArtSci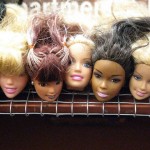 Featured in this morning's UW Today is a new, unusual project from IVA Associate Professor Lou Cabeen's Art 427 (Special Topics in Surface Design). UW Mailing Services partnered with Cabeen and her students so that the students could create artworks and install them on UW Seattle campus mailboxes. The connection between these disparate campus units happened through School of Art staff member Debra Cox and her husband, Marco Solis-Bethancourt, who is a supervisor at Mailing Services. The project was a lot of work, but it also was a great learning experience for all involved. A map, created by School of Art staff member Meg Zabielski, shows the location of the projects, and a selection of photos have been posted on Facebook (no account required).
Update: The Mailbox Project also was featured on the front page of The Daily for the Friday, 11 March 2011, issue.