An Artist Supporting Art+Design Students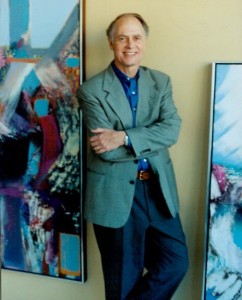 William Ingham is an alumnus of the School of Art and a successful painter, but his accomplishments have not caused him to forget what it was like to be an art student. He knows students are in school to learn how to make artistic visions become reality, and he wants to support that process.
Ingham was born and raised in Seattle. His brother, who became an architect and artist, was influential in inspiring Ingham's early interest in art, and this interest was further bolstered by the knowledge that his great uncle had been a well-known sculptor. Ingham chose Colby College in Maine for pursuing a bachelor's degree in philosophy, but he also studied painting while there. After a short time as a philosophy graduate student at Case Western University and continued art studies at the Cleveland Institute of Art, Ingham returned to Seattle. He clearly loved making art, but it was not until 1968 that he made the decision to pursue his calling as an artist. He enrolled in the University of Washington School of Art as a fifth-year student and then went on to receive his MFA in 1972.
Many painting professors at the UW influenced Ingham and his work: Alden Mason, Michael Spafford, Kenneth Pawula, Norman Lundin, Boyer Gonzales, and the newly arrived Jacob Lawrence. A visiting professor, John Thomas, had a special impact on Ingham because of "his intellectual approach to art…He introduced me to the absolutely revelatory writings of art psychologist Rudolf Arnheim." Despite what he gained from interacting with all these artist/teachers, Ingham felt strongly that he needed to focus on being a painter and not teaching. After graduation,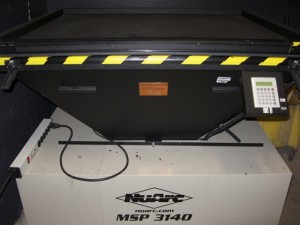 he moved his art practice to a studio in downtown Seattle and concentrated on creating his independent artistic vision.
After much success as an artist, including a book written about his work, Ingham decided it was time to return to the School of Art to see what he could do to support current students. In 2004, he joined the School's Advisory Board. At one of the first board meetings Ingham attended, School of Art Director Christopher Ozubko spoke about budget issues and mentioned some specific equipment needs. In the list was a screen exposure system, which caught Ingham's attention since it is critical to several specialties in the School of Art. He called Ozubko the next day to offer funding for the equipment. A grateful staff member, the late Larry Sommers, created a brass plaque commemorating the donor and the equipment's installation in 2005; the plaque is mounted on the machine's front.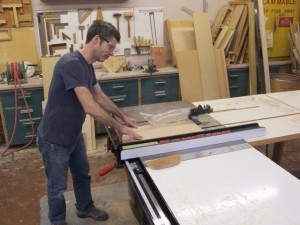 A few years later, the Ingham Fund for Excellence was created in order to make it easier for Ingham to fund specific needs as they arose. In 2009, the Wood Shop wanted to purchase a SawStop table saw to increase safety. Ingham knew this would benefit many students, so he chose to make the purchase. After a year of experience with the SawStop, the Wood Shop Instructional Technician, John Martin, used the equipment's success as the basis for a Student Technology Fee grant application. The nearly $13,000 received from that grant paid for the purchase of three more SawStops: one for the Sandpoint Studios, one for the 3D4M Studios / CMA, and a second one for the Wood Shop in the Art Building. Ingham was pleased to learn recently of how his gift of one SawStop was parlayed into three more.
Ingham knows that there is nothing worse than a student not being able to afford the proper installation of his or her work in an exhibition, and the most well-known School of Art show is the annual display of thesis work by master's students from the Art and Design Divisions. In 2009, 2010, and 2011, the Ingham Fund for Excellence gave each graduating student several hundred dollars to support installation costs for the Henry Art Gallery exhibition. A total of forty-nine students have benefited from this.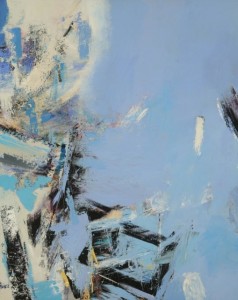 Because Ingham's home is already full of art, he does not go out of his way to purchase more, yet every now and then something hits him as a perfect fit. During the recent Scholarships for Scholars event at the 3D4M Studios / CMA, he wandered through student studios and came upon a sculpture that seemed like an ideal gift for his son-in-law. Ingham enjoyed speaking with the young artist and making the purchase. He is looking forward to more interaction with younger artists this spring when he will host a visit to his studio by a select group of students from the Painting + Drawing Program. He plans to talk with them about patronage and the commercial art world as well as show them some of his paintings and have a discussion about the art making process.
Ingham is well aware that success as an artist is a challenge and requires constant effort. He hopes that what he gives the students, through monetary support or sharing his own experience, will benefit them in their own growth and development as artists.
Return to February 2012 eBlast page