A Trio of Artistic Trajectories
What happens to our Art Division alumni after they graduate? We decided to find out by looking at the careers of three alumni who graduated in the first half of the last decade: Jonas Wood (MFA 2002), Isaac Layman (BFA 2003), and Tim Roda (MFA 2004). While there are some similarities in their paths, each has its own unique arc.
____________________________________________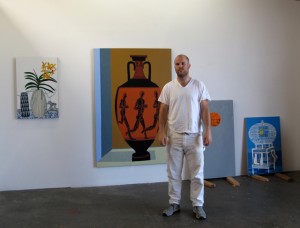 Jonas Wood started with a BA in Psychology from Hobart and William Smith Colleges and did not focus on learning to paint until his senior year. He knew about the UW School of Art because his undergraduate painting professor had studied with Professor Denzil Hurley when Hurley taught at Pomona College. It was not until after Wood arrived in Seattle, with two weeks alone in his studio before starting classes in the Painting + Drawing Program, that he truly realized "this was what I was meant to do with my life." While at the UW, he learned a lot about painting, drawing, and having a disciplined studio practice. He says "the professors tried to show the students that this life choice is hard, almost impossible, and the only way to succeed is with maximum effort and developing ways to challenge and push yourself…I think they helped to develop a toughness in me in terms of taking criticism and using it to my advantage."
Wood and his wife, artist Shio Kusaka (BFA 2001), moved to Los Angeles immediately after Wood's graduation. The only person they knew in Los Angeles was Matt Johnson, an MFA student completing his degree at UCLA, but Johnson was able to help them each get jobs as studio assistants for other artists. Wood worked for Laura Owens for two years and then two years for Johnson. Wood continued to create his own art, but working for other artists taught him a lot about running a studio and business as well as generating ideas outside of graduate school. Black Dragon Society was the first gallery in Los Angeles to represent his work and give him a solo exhibition in 2006. Artist Mark Grotjahn saw Wood's paintings at that show and told Anton Kern Gallery in New York City about it. The result was Anton Kern Gallery mounting a one-man exhibition for Wood during the summer of 2007, and then Shane Campbell Gallery in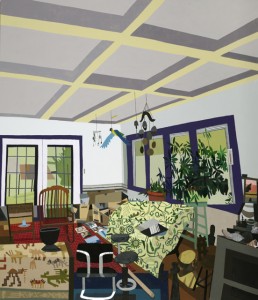 Chicago hosted a solo show just two months later. From that point on, he has continued to exhibit his work regularly. During the first half of 2010, Wood had his first museum show, which was at the Hammer Museum in Los Angeles. Corrina Peipon, who curated the exhibition, recently said this: "I was initially attracted to Jonas's paintings because I found them to be deeply felt, closely observed scenes from everyday life that immediately appealed to me. As I got to know him and his work, it became clear to me that Jonas puts everything he has into his practice. It's lucky for us that he does." He had his third show at Anton Kern Gallery last spring. Roberta Smith, an influential critic at The New York Times, had positively reviewed his 2008 exhibition there, and she praised his paintings again in March. Although he has participated in several international group shows, Wood had his first one-man exhibition in Europe this summer, showing at Patrick De Brock Gallery in Belgium. He has a solo exhibition lined up for April 2012 at David Kordansky Gallery in Los Angeles. Wood is happy living and working in Los Angeles. He sees it as an amazing community of young artists, museums, and culture. He has "been in love with LA" since the day he moved there.
Wood credits several factors for his success: having confidence in himself and his abilities as an artist; overcoming academic hurdles when he was young; a family with a strong interest in the arts; teachers and friends; some luck; and great galleries who have given him opportunities and believed in him deeply. Professor Denzil Hurley had this to say about Wood: "While in residence, Jonas worked very hard to develop his ideas and his studio practice. He made important connections concerning relationships between various media. His penchant for research continues to positively impact his work."
____________________________________________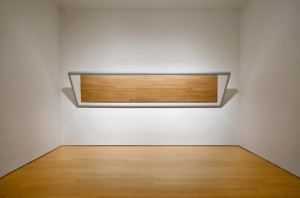 Isaac Layman lived in the Seattle area and chose the School of Art for his BFA because of the reputation of the Photography Program (now known as Photomedia) and the in-state tuition. An interview with Professor Paul Berger before applying to the UW "was truly inspiring and made me want to join the program." Layman enjoyed his classmates and considers them one of the most rewarding aspects of the program. He divided his time between the photo classrooms and studios in the Art Building basement and ceramic classes at the CMA Building. He also took part in the "spectacular experience that is the Studio Art Program in Rome." Similar to Wood, Layman credits the importance of class critiques. He says, "It is incredibly valuable to be given the space and opportunity to work your ideas out to their conclusion, even though some of these 'great' ideas run right off the dock." His training through critiques continues to inform his interactions with curators and other artists.
With the exception of one year living in New York, Layman has been in Seattle since graduation. For him, the decision about where to be an artist has largely been driven by being near family, but he also values Seattle because of "all the people who participate in making, supporting, showing, and thinking about art when they could be doing something else." Like many School of Art alumni, he started exhibiting his work at some of the smaller venues in Seattle and at SOIL Gallery, which also showed his images at the Aqua Art fair in Miami in 2005 and 2006. He joined Lawrimore Project at the end of 2006 and began working on a solo exhibition of new images for the following year. That show, Photographs from Inside a Whale, led to Layman winning the Betty Bowen Award in 2008 (which included a small exhibition of his work at the Seattle Art Museum), a review in Art in America magazine, and inclusion in The 9th Northwest Biennial at the Tacoma Art Museum in 2009. For 2010, Layman produced two back-to-back solo shows at Lawrimore Project. Sylvia Wolf, Director of the Henry Art Gallery, selected two pieces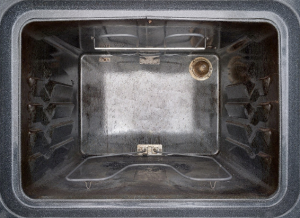 from that body of work for inclusion in her book titled The Digital Eye: Photographic Art in the Electronic Age (an exhibition of the same title, including Layman's images, just closed at the Henry). Wolf recently said, "We are proud, at the Henry, to exhibit and have acquired the work of this highly accomplished and gifted artist. I look forward to seeing what Isaac will do next." Layman's images have also been on view at Elizabeth Leach Gallery in Portland, and in numerous art fairs with both Elizabeth Leach Gallery and Lawrimore Project. The highlight of this year will be his first major museum exhibition, hosted by the Frye Art Museum in Seattle and curated by the museum's director, Jo-Anne Birnie Danzker, who recently commented, "Isaac Layman is one of the most exceptional artists working in Seattle today." That show opens on 19 November 2011 and runs through 22 January 2012; a catalog will accompany the exhibition. Layman will participate in Lifelike at the Walker Art Center during the first half of 2012.
Layman attributes his success thus far to his willingness to focus all his resources in the early years after graduation toward creating art (his wife's job supported this decision) and the attitude that every show he does is the most important show he has ever done. Professor Ellen Garvens says this about Layman: "I'll never forget meeting with Isaac after his bicycle trip across the African continent – riding through several countries in the southern part of Africa. That drive, trust, and confidence in his own unique trajectory has always been a part of his life and work. And he does it all with such humor, humility and grace."
____________________________________________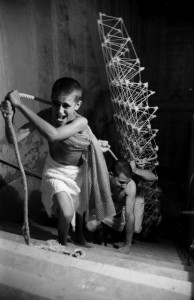 Tim Roda came to the School of Art following completion of a BFA in ceramics at Pennsylvania State University. He chose the UW after meeting Associate Professor Doug Jeck at Santa Fe Clay and learning of the reputation for multidisciplinary work that existed for what was then known as the Ceramics Program (now part of 3D4M). Roda quickly discovered that creating strictly ceramic pieces was not his true strength, so he explored in other directions. Critiques were, according to him, "so vigorous, they really taught me how to edit and stand behind what I made." He also enjoyed the many interactions with visiting artists, local and national, and he developed a love of teaching. The tight timeline of the UW's academic quarters taught him to work intensely, a pace he kept up for at least a year after graduating in order to not lose his artistic momentum.
Roda had the good fortune to be chosen for representation by Seattle's Greg Kucera Gallery immediately after graduation and to have a residency at the Archie Bray Foundation in Helena, Montana, shortly afterwards. He decided to move to New York City in 2005 because he had received the free yearlong use of a studio in Tribeca through the Marie Walsh Sharpe Art Foundation, and his wife was starting graduate school at Columbia University. While New York has not always been an easy city for creating art due to the high cost of studio space and other factors, Roda has successfully built a network of career-building connections. His Marie Walsh Sharpe Foundation residency brought him in contact with Gasser / Grunert Gallery. Being represented by that gallery then gave him contacts with galleries in Germany and Canada. In 2007, Roda had the first museum show of his work at the Museum of Contemporary Photography in Chicago. He feels that a museum exhibition "is a big step because it is a different level and form of validity" where the institution provides education and new viewpoints to the public. In addition to creating new art, Roda continually looks for ways to experiment and push his ideas further: in 2008-2009, he had a Fulbright grant to study in Italy for nine months (which resulted in his "Games of Antiquities" series); in 2012, he will be the Kennedy Family Artist-in-Residence at the University of South Florida School of Art & Art History; and, in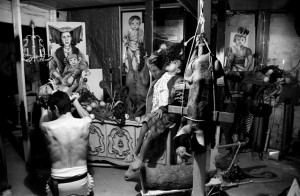 2013, he will have his second residency at the Centro Cultural Andratx in Mallorca, Spain. He also feeds his love of teaching by occasionally taking short-term contracts at universities and colleges. His work has been written about in a number of publications, and Nasim Weiler Contemporary in Hamburg, Germany, will publish an extensive oeuvre-catalogue titled Butcher's Block, which is scheduled for this autumn. Greg Kucera, the gallery owner who has known Roda's creations the longest, says this about him: "Tim was one of those rare students who arrived in the world, fresh out of graduate school, as a fully formed artist…His work was fresh and smart and it has continued to grow and to mature into an ever more complex range of photographs, videos and installations." Kucera will feature Roda in a 2012 exhibition.
Roda believes that he has become a successful artist due to hard work; learning to navigate the competitive art world; following connections between experiences; and being surrounded by a good support system (including a family willing to literally be part of his art). Like Wood, Roda thinks that a certain amount of luck has also been involved. Associate Professor Doug Jeck recently said this about Roda: "When Tim and his wife Allison arrived at the UW, his son Ethan was four years old. What could've been a very difficult two years blossomed into one of the most intelligent, challenging, and poignant bodies of work I've ever witnessed – anywhere…Now there are four Roda boys and the depth and strangeness of Tim's "family-time" stage sets are going supernova, as is his career."
Return to October 2011 eBlast page