The Influence of an Artful Life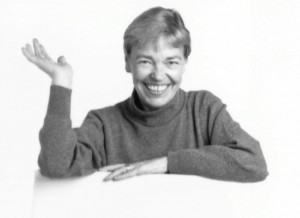 Creative, kind, dripping with talent, fabulous hostess, wonderful capacity for friendship, exceptionally vivacious. These are just a few of the words and phrases used by the friends of Julaine Martin to describe her. Known as Julie by most people, her untimely death from brain cancer in 2005 left a hole in the lives of many, but reminiscing about her life inspired her friends to create something in her honor. They took advantage of matching funds offered at that time by the University of Washington and established the Julaine Martin Endowed Scholarship in the Arts.
Martin was born in Cedar Bluffs, Nebraska, but was primarily raised in the vicinity of Woodinville, Washington. She and her husband, Professor Emeritus of Pathology George Martin, met at the University of Washington. He was a medical student, and she was pursuing post-baccalaureate training in medical technology. After knowing each other for a while, he won her heart by spending a New Year's Eve finding her beloved, lost dachshund.
Many years later, after marriage and raising four children, Martin returned to the University of Washington to study art history; she received her second bachelor's degree in 1974. According to her husband, studying art history was one of the happiest times of her life. She particularly loved contemporary art and folk art from around the world. Her interest in folk art led her to work at La Tienda, a gallery and shop on University Way, for a number of years, and it inspired her to learn woodcarving later in life.
Over the decades, Martin accompanied her husband on many of his research-related travels to places such as Scotland, Greece, England, Israel, Japan, France, India, and Germany. While traveling, she would often collect folk art for their home and take many photographs, periodically providing the photographic documentation for his research. She also loved to travel with friends. Sometimes her husband participated, such as trips to Mexico and Indonesia, but at other times it was just Martin and one or more good friends. These adventures included trips to New York City and Morocco, as well as getaways at Sleeping Lady Resort just outside Leavenworth, Washington. She was involved with the UW Faculty Auxiliary as well and joined the hiking interest group, which meant weekly trips into the mountains or to nearby parks when not traveling.
Martin was well known among friends and her husband's colleagues and graduate students for her warm hospitality. She hosted numerous dinner parties and other gatherings, including a book group that she and her husband participated in for decades. Many of her friends were very good cooks, but she was considered by most to be the best among them. She shared recipes widely, and her blueberry tart was particularly famous. Cooking was one more way for her to share her zest for life.
After Martin's passing, her friends Connie Pious and Fam Bayless circulated the idea of a memorial donation among twenty to twenty-five of Martin's closest friends in the Seattle area. After discussing many options, it was finally decided that a scholarship fund at the University of Washington School of Art would be the best choice, and Anne Johnson took the lead in arranging that for the group. Martin's husband also added a gift. Their donations have been earning interest, and the initial scholarships were awarded in 2010 to one graduate student from each of the School of Art's three divisions: Neal Fryett (Art), Susan Dine (Art History), and Shweta Grampurohit (Design).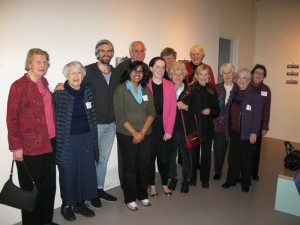 The recipients met Martin's husband and a number of her friends at a small luncheon in the Jacob Lawrence Gallery last quarter. This gave the students the opportunity to learn more about Martin and their benefactors. Grampurohit said, "It was a pleasure to meet with the warm people behind this generous endeavor and a delight to learn from them about Julaine Martin's approach towards her work. Her passion for both art and science was an interesting revelation for me as a designer. It is her contagious enthusiasm that, through her well-wishing friends and family, will continue to be with me and other students as a mark of undying curiosity for knowledge." Grampurohit has used her scholarship to defray costs associated with multiple design projects. Fryett has used his scholarship to purchase film and silver paper to use with a banquet camera with which he is creating images for his graduate thesis project. Dine has used her scholarship to buy research resources for her thesis about Japanese art, particularly items unavailable through the University of Washington Libraries. All three graduate students exemplify the spirit that defined Martin's life and her legacy.
To donate to the Julaine Martin Endowed Scholarship in the Arts or any other School of Art fund, please follow the links provided or call 1-877-UW-GIFTS (894-4387). If you have questions about any of the School of Art funds or would like to discuss establishing an endowment, please contact Kathy Mack, 206-543-0971.
Return to February 2011 eBlast page