The Ties That Bind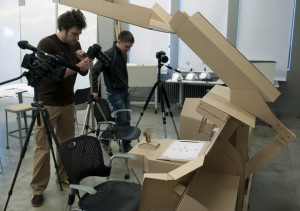 How do two public health researchers become strong supporters of the School of Art? In less than a decade, Linda LeResche and Michael Von Korff have gone from knowing nothing about the School of Art to supporting graduate students in Interaction Design (IxD) and becoming members of the School's Advisory Board.
LeResche and Von Korff have good friends whose daughter became a student in the Design Division in 2004. The student, Natalie Malone, was very enthusiastic about her studies and the faculty, and she shared her passion for the School with those around her. Tragically, Malone died of leukemia in May 2006, before she could graduate. Malone's parents attended the School's graduation ceremony that year accompanied by LeResche and Von Korff. They were all impressed and moved by what they saw. There was strong engagement between students and faculty. Diverse individuals had clearly found a home and meaning in life through the School. To LeResche and Von Korff, who both attended small liberal arts colleges, the School of Art had the feeling of a small college set within a large university.
After their involvement with founding the Natalie Malone Endowed Scholarship and meeting more people in the Design Division, LeResche and Von Korff decided to do something more for the School. Their graduate training in public health had been supported by federal grants, and they felt it was important to give back to the next generation by helping current graduate students. Through Christopher Ozubko, School of Art Director, they learned about the IxD Program. While still in its infancy, IxD showed great promise under the leadership of Assistant Professor Axel Roesler. IxD and its approach to solving real-world problems particularly appealed to LeResche and Von Korff. Since 2008, they have provided fellowships for five IxD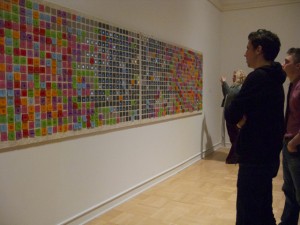 graduate students: Kris Martin, Nate Landes, Shweta Grampurohit, and current students Dan Ostrowski and Sergei Larionov. The students may use the funds in any way needed to support their studies. Larionov recently said: "I am very grateful and excited to be recognized by the School of Art's Design Division and to receive financial support from such generous donors to our Interaction Design Program. I think it is very important that the School of Art and Interaction Design program have the ability to recognize and encourage students to strive for excellence in their pursuit to discover and innovate." Grampurohit shared this: "I had the pleasure of meeting Linda and Michael twice during my education at the School of Art. The first time, I met them at the annual MFA Thesis exhibition and they introduced themselves to me. I was more than happy to walk them through what I had done for the exhibit. The second time we got a chance to meet for much longer and it was so gratifying to see that they understood the importance and impact that well trained interaction designers can have on the world. I am happy to have received a scholarship from people with such genuine concern and interest in the discipline."
In 2010, LeResche and Von Korff were invited to join the School of Art Advisory Board, an invitation they promptly accepted. It felt like a natural progression for them to become more involved, and it has allowed them to learn about other parts of the School. One example was hearing about School of Art students who were part of an internship program at the Henry Art Gallery. They were impressed by the career preparation and self-confidence that interns gained, helping them transform their passion for art into opportunities for their life's work.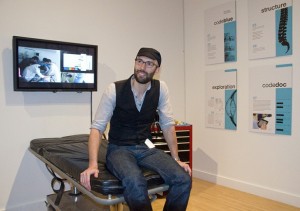 While they are not particularly involved in art beyond the School of Art, LeResche and Von Korff do have other interests outside of their multidisciplinary research work. They love hiking, cooking for friends, and experiencing other cultures. Regularly sharing a house in the French Alps with Dutch friends allows them to combine all three. They are brushing up on their French, but Italian and Spanish may also be needed if they are able to visit the UW's centers in Rome and Leon.
If you would like to support students in the School of Art and share in the satisfaction that LeResche and Von Korff have found in building a relationship with one of our programs, there are many opportunities for giving. Feel free to contact Kathy Mack, Advancement Services Officer in the School of Art, at 206-543-0971 or mackk2@uw.edu.