Van Someren & Labitzke Share Show @EverettCC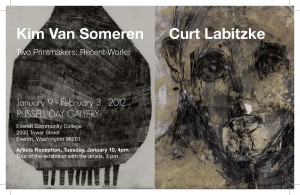 Instructional Technician Kim Van Someren and Associate Professor Curt Labitzke have an exhibition opening on Monday, 09 January 2012. Titled Two Printmakers: Recent Works, the show is at Everett Community College's Russell Day Gallery. The artists will give a tour of the exhibition at 3pm on Tuesday, 10 January, followed by a reception starting at 4pm. The show will remain up through 03 February 2012.
These two are squaring off in a Drypoint Duel on Saturday, 28 January 2012, starting at 1pm, in an event sponsored by Seattle Print Arts. Their website says: "Come and witness the battle between the different styles of two printmaking beasts! Watch experimental techniques and demonstrations on making and printing drypoint intaglio plates." It will be in room 210 of the Art Building. Note that parking on the UW Seattle campus is free after noon on Saturdays.
Labitzke also has work in an exhibition titled Journeys at SAM Gallery, which opens on 12 January and closes 11 February 2012. The reception is the first day from 5-7pm. Kathy Hastings (MFA 1974) has work in the show as well.