Inside Out or Outside In @henryartgallery @iheartSAM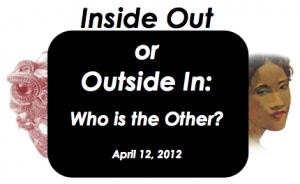 The Graduate Students of Art History have organized a multi-part symposium that will take place on Wednesday and Thursday, 11 – 12 April 2012. This year's theme is "Inside Out or Outside In: Who is the Other?"
The opening event for the symposium is a Wednesday evening lecture at the Seattle Art Museum by two scholars: Dr. Caroline Vercoe, Head of Art History Department and Senior Lecturer, The University of Auckland, and Dr. Carol Ivory (MA 1982, PhD 1990), Professor and Associate Dean, College of Liberal Arts, Washington State University, Pullman. They will discuss Polynesia in the past and today. Please note that tickets are required for this event.
The morning and afternoon sessions on Thursday include presentations by eleven graduate students, six of whom are School of Art students. The first five papers will be presented at the Henry Art Gallery from 9:20am-12pm. The remaining six presentations will take place at the Seattle Art Museum from 2-5pm; free registration is encouraged for the afternoon session. From 5:30-7:30pm, there will be a performance by the JazzED New Works Ensemble in the museum's Brotman Forum.
The final event of the symposium will be a tour of the Gauguin and Polynesia exhibition at the Seattle Art Museum led by the scholars who spoke on Wednesday evening, Dr. Vercoe and Dr. Ivory. IMPORTANT: attendees should purchase exhibition tickets for 7pm or earlier as soon as possible to insure that space is available.