Autumn Art + Design Classes for Freshmen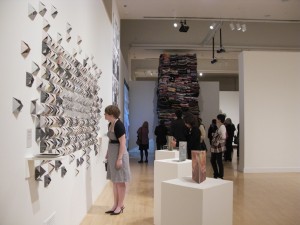 First launched last autumn, ART 101: Narratives in Art + Design, taught by Associate Professor Curt Labitzke, is back. This year, the class will again offer an exciting introduction to the practice of art and design for entering freshmen.
Students will meet twice weekly in the Henry Art Gallery and use the museum's galleries, Study Center, James Turrell Skyspace, Light Reign, and related facilities as their learning environment. Studio and classroom visits in the School of Art are linked with students' participation in topic-driven interviews and panel discussions with faculty, alumni, advanced undergraduate and graduate students, members of the Seattle art/design community, and the museum staff. The class is a fantastic opportunity for freshmen to build connections.
Registration is simple. Freshmen choose one of the introductory art or design courses listed below; ART 101 is then automatically added to their schedule. Intro art or design classes include:
ART 131: Alternative Approaches to Art and Design, taught by Claire Cowie
ART 140: Basic Photography, taught by Dave Kennedy
ART 165: Intro to Industrial Design/Product Design, taught by Dominic Muren
ART 190: Beginning Drawing, taught by Helen O'Toole
ART 202: Ceramic Wheel Throwing, taught by Akio Takamori.
Questions? Contact School of Art Academic Advising:  206-543-0646 | uaskart@uw.edu | 104 Art Building.