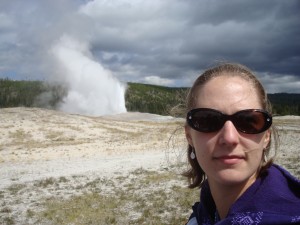 Brooke Reaser graduated with her PhD in 2017. Her current LinkedIn page is here: https://www.linkedin.com/in/brooke-reaser-26474a50/
Bio
Brooke graduated in 2012 from St. Olaf College, with an ACS certified B.A. in Chemistry with distinction and a B.A. in Spanish. She earned distinction performing research with Dr. Doug Beussman, developing a method for the analysis of human scent using GC-MS for forensic investigations. She presented her research during the poster session at Pittcon 2012 and at a public seminar at St. Olaf. After graduating, she moved to Seattle to begin her graduate studies at the University of Washington with Prof. Synovec. She is currently a 5th year, utilizing new data analysis methods for the investigation of metabolites in complex samples.
Research Interests
Data analysis — To develop and utilize new analysis methods to more easily obtain complex chemical information from GC and GCxGC separations
Publications
Enhancing Gas Chromatography–Time of Flight Mass Spectrometry Data Analysis Using Two-Dimensional Mass Channel Cluster Plots. Brian D. Fitz, Brooke C. Reaser, David K. Pinkerton, Jamin C. Hoggard, Kristen J. Skogerboe, Robert E. Synovec. Anal. Chem., 2014
Posters
"Human Scent Differentiation" B. C. Reaser, D. J. Beussman; Pittcon, Orlando, FL. March 12, 2012.
Awards
ACS Analytical Chemistry undergraduate award (2012)
Eugene S. Mindlin Endowed Fellowship (2012)