Welcome from the Editor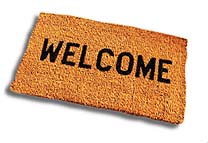 Welcome to yet another issue of the Transfer eNewsletter, the University of Washington's on-line publication dedicated to prospective transfer students and the academic advisers around the state who support them. I'm glad you found your way here!
Read more...

So Now What? What to Expect When your Decision Arrives
The University of Washington takes great care in assessing applications and does not rush the selection of future students. We receive thousands of admission applications, making the review process long... Read more...

Women in Science and Engineering (WISE)
The Women in Science and Engineering (WiSE) program is designed to increase the recruitment and retention of women in engineering. Read more...

TRIG is Highly Recommended for All New Transfer Students (And We're Not Talking Trigonometry!)
Attention transfer students coming fall of 2008! There's a program designed for you and aimed at helping you get acclimated to the UW environment. Read more...

What About If I Speak A Language Other Than English at Home?
"Heritage" language speakers can frequently use the language they speak at home to meet the University of Washington's language proficiency requirement... Read more...

Martin Family Foundation Honors Scholarship Program
The Martin Family Foundation Honors Scholarship Program enables community college students of exceptional ability and outstanding achievement to complete their baccalaureate degrees at the University of Washington, Seattle Campus. Read more...

UW Tacoma Open House and Downtown Tacoma's ArtWalk
Been to Tacoma lately? The city of Tacoma has undergone a major transformation in recent years, thanks in large part to the University of Washington Tacoma. Read more...

Business Minor at UW Tacoma
The Milgard School of Business at UW Tacoma now offers a Minor in Business Administration. Read more...

Explore your options at UW Bothell and UW Tacoma
Both campuses are still accepting applications from transfer students for admission in Autumn 2008. Read more...

Updates on Several UW Health Programs

The Resources Here to Support You
Does the university seem huge to you? I remember thinking that I would never find my way around campus... Read more...

For Community College Advisers: Highway to Husky Admission is the On-Ramp to the UW
This summer the Office of Admissions and the Undergraduate Gateway Center are offering a workshop called Mastering the Highway to Husky Admission. Read more...

Selected Upcoming UW and Departmental Application Deadlines