Spring 2008 | Issue No. 12
IN THIS ISSUE:

Print-ready PDF version
UW VIRTUAL TOUR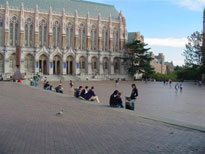 TRANSFER THURSDAYS
Thinking about transferring to the UW? If you are,
Transfer Thursday is your gateway to transfer information
. At a Transfer Thursday session, you can speak to an admissions counselor who will tell you all about applying to the UW. You can also meet with an undergraduate academic advisor who will help you prepare for your intended UW major. Bring your questions and your unofficial transcript(s). It's one-stop shopping for the prospective transfer student.
Where:
University of Washington
171 Mary Gates Hall
When:
Every Thursday 1:00 - 4:00.
Click here to view the scheduled activities
.
For more information:
(206) 543-2550 or click
here
.
CREDITS
Megan McConnell
Editor
Jennifer Stock
Technical Producer
Contributors:
Kay Balston
Heather Clineschmidt
Erica Coker
Terry Hill
Cathryne Jordan
Megan McConnell
Jessica Salvador
Beth Scholler
Ann Trail
Melissa Wensel
The Transfer eNewsletter is a project of the UW Undergraduate Advising Gateway Center.
What About If I Speak A Language Other Than English at Home?
By Ann Trail, Academic Counselor, Gateway Center, UW-Seattle
"Heritage" language speakers can frequently use the language they speak at home to meet the University of Washington's language proficiency requirement. Any student who has been educated in their heritage language through the seventh grade is classified as a "native speaker" and will have the language proficiency requirement waived. Students who were not schooled to that extent may still be able to use their language. If the language is one taught at the University of Washington, the student should approach the department that teaches the language in question. Different departments have different procedures, but all are prepared to test students.
For students who are speakers of a language not taught at the UW, and who were not schooled through the 7th grade in the language, it is still possible to use their language for the proficiency requirement. Students contact the Gateway Advising Center for an intake appointment to discuss their knowledge of the language with our language specialist. If it does seem that the student's knowledge is strong enough to pass a proficiency exam, the student will be given permission to set one up.
It is important for students to know that they need to be literate in the language as well as fluent. For students who can speak but are unable to read, the exam will not be a viable option. It will probably be easier for these students to pursue proficiency in the language they studied in high school.