Spring 2008 | Issue No. 12
IN THIS ISSUE:

Print-ready PDF version
UW VIRTUAL TOUR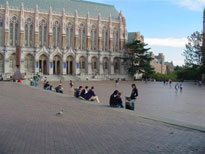 TRANSFER THURSDAYS
Thinking about transferring to the UW? If you are,
Transfer Thursday is your gateway to transfer information
. At a Transfer Thursday session, you can speak to an admissions counselor who will tell you all about applying to the UW. You can also meet with an undergraduate academic advisor who will help you prepare for your intended UW major. Bring your questions and your unofficial transcript(s). It's one-stop shopping for the prospective transfer student.
Where:
University of Washington
171 Mary Gates Hall
When:
Every Thursday 1:00 - 4:00.
Click here to view the scheduled activities
.
For more information:
(206) 543-2550 or click
here
.
CREDITS
Megan McConnell
Editor
Jennifer Stock
Technical Producer
Contributors:
Kay Balston
Heather Clineschmidt
Erica Coker
Terry Hill
Cathryne Jordan
Megan McConnell
Jessica Salvador
Beth Scholler
Ann Trail
Melissa Wensel
The Transfer eNewsletter is a project of the UW Undergraduate Advising Gateway Center.
For Community College Advisers: Highway to Husky Admission is the On-Ramp to the UW
By Kay Balston, Academic Counselor, Gateway Center
This summer the Office of Admissions and the Undergraduate Gateway Center are offering a workshop called Mastering the Highway to Husky Admission. Two identical sessions will be offered, one on July 23 and one on August 20. Each all-day workshop will cover the nuts and bolts of the transfer admission process and a studentís transfer orientation and transition to the university. A special section will look at issues facing Running Start students. This is a hands-on event where community college advisers, faculty advisers, counselors, and Running Start coordinators can actually evaluate some transfer applications and decide who gets in and who doesnít. Youíll have a chance to "be" a UW adviser for an afternoon and help transfer students figure out what they have, what they need, and how to get the major they want. Each session is limited to 20 people. Details will be sent out soon on the UW/CC listserv and reservations will be accepted at that time. In the meantimeósave the date! And please pass the word along to others on your campuses who may be interested!