Spring 2008 | Issue No. 12
IN THIS ISSUE:

Print-ready PDF version
UW VIRTUAL TOUR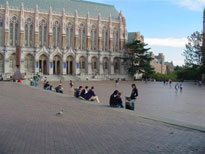 TRANSFER THURSDAYS
Thinking about transferring to the UW? If you are,
Transfer Thursday is your gateway to transfer information
. At a Transfer Thursday session, you can speak to an admissions counselor who will tell you all about applying to the UW. You can also meet with an undergraduate academic advisor who will help you prepare for your intended UW major. Bring your questions and your unofficial transcript(s). It's one-stop shopping for the prospective transfer student.
Where:
University of Washington
171 Mary Gates Hall
When:
Every Thursday 1:00 - 4:00.
Click here to view the scheduled activities
.
For more information:
(206) 543-2550 or click
here
.
CREDITS
Megan McConnell
Editor
Jennifer Stock
Technical Producer
Contributors:
Kay Balston
Heather Clineschmidt
Erica Coker
Terry Hill
Cathryne Jordan
Megan McConnell
Jessica Salvador
Beth Scholler
Ann Trail
Melissa Wensel
The Transfer eNewsletter is a project of the UW Undergraduate Advising Gateway Center.
Business Minor at UW Tacoma
By Erica Coker, UW-Tacoma Admissions
The Milgard School of Business at UW Tacoma now offers a Minor in Business Administration. The minor is designed for undergraduate students in any non-business major or program to increase their understanding of business theory, practices, and applications within a wider economic and social context. The curriculum is designed to emphasize critical competencies, including strategic thinking, integrated business knowledge, communication, and teamwork.
The minor requires 30 credits, with a minimum of 20 credits in residence. There are four required courses (for a total of 20 credits): Introduction to Financial Accounting, Introduction to Microeconomics, Managing Organizations, and Introduction to Marketing Management. An additional 10 credits of electives, which should generally be taken after completion of all required courses, are selected from an approved list of classes. Students may request to transfer in up to 10 credits to be applied toward the required courses, and must earn a 2.0 GPA in each of the required courses. In addition, at least three courses for the Business Minor must be taken at the upper-division level.
The Business Administration degree program at the Milgard School of Business is designed to prepare students for entry into professional positions in business and government. The School is committed to advancing and disseminating business knowledge and to cultivating collaborative relationships with the community. Faculty and staff strive to develop leaders who will better global business in a socially responsible manner, integrating innovative teaching, relevant scholarship, and proactive service to business and academic communities.