Spring 2008 | Issue No. 12
IN THIS ISSUE:

Print-ready PDF version
UW VIRTUAL TOUR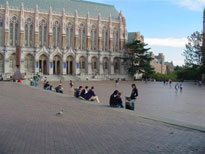 TRANSFER THURSDAYS
Thinking about transferring to the UW? If you are,
Transfer Thursday is your gateway to transfer information
. At a Transfer Thursday session, you can speak to an admissions counselor who will tell you all about applying to the UW. You can also meet with an undergraduate academic advisor who will help you prepare for your intended UW major. Bring your questions and your unofficial transcript(s). It's one-stop shopping for the prospective transfer student.
Where:
University of Washington
171 Mary Gates Hall
When:
Every Thursday 1:00 - 4:00.
Click here to view the scheduled activities
.
For more information:
(206) 543-2550 or click
here
.
CREDITS
Megan McConnell
Editor
Jennifer Stock
Technical Producer
Contributors:
Kay Balston
Heather Clineschmidt
Erica Coker
Terry Hill
Cathryne Jordan
Megan McConnell
Jessica Salvador
Beth Scholler
Ann Trail
Melissa Wensel
The Transfer eNewsletter is a project of the UW Undergraduate Advising Gateway Center.
Welcome
By Megan McConnell, Editor, Transfer eNewsletter
Welcome to yet another issue of the Transfer eNewsletter, the University of Washington's on-line publication dedicated to prospective transfer students and the academic advisers around the state who support them. I'm glad you found your way here!
As usual, I'm excited about this issue and the wealth of information it contains for students considering transferring to the University of Washington. I'm particularly thankful for the contributions of a couple of people who have lots of helpful advice to give to students out there. The first is Beth Scholler, who herself transferred to the UW from North Seattle Community College, has worked as an orientation leader here at the UW, and is just about as involved as any student I know on this campus. In her first-person "Outside the Classroom," piece, she offers up valuable first-hand knowledge about the resources students should avail themselves of and the things they shouldn't bother worrying about.
Also especially welcome this issue is an article from veteran adviser Melissa Wensel about the value of a liberal arts education to prospective employers. In "Reality Check on an Old Myth: The 'Unemployable' Liberal Arts Major," she takes on, quite convincingly, the idea that English, History, and other such majors prepare one to either teach or pour espresso. I encourage advisers and students alike to read it.
New this issue is a regular feature on programs and developments at the University of Washington's other campuses, UW-Bothell and UW-Tacoma. I am pleased to have their participation and believe firmly that all prospective transfers owe it to themselves to consider the array of programs and alternatives at all three campuses when considering the right fit for their bachelor's degree.
I wish you happy reading and a wonderful summer! The Transfer eNewsletter takes the summer off, but will be back in the fall. Hope to see you again then.