Spring 2008 | Issue No. 12
IN THIS ISSUE:

Print-ready PDF version
UW VIRTUAL TOUR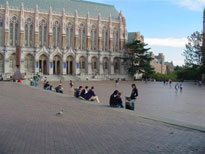 TRANSFER THURSDAYS
Thinking about transferring to the UW? If you are,
Transfer Thursday is your gateway to transfer information
. At a Transfer Thursday session, you can speak to an admissions counselor who will tell you all about applying to the UW. You can also meet with an undergraduate academic advisor who will help you prepare for your intended UW major. Bring your questions and your unofficial transcript(s). It's one-stop shopping for the prospective transfer student.
Where:
University of Washington
171 Mary Gates Hall
When:
Every Thursday 1:00 - 4:00.
Click here to view the scheduled activities
.
For more information:
(206) 543-2550 or click
here
.
CREDITS
Megan McConnell
Editor
Jennifer Stock
Technical Producer
Contributors:
Kay Balston
Heather Clineschmidt
Erica Coker
Terry Hill
Cathryne Jordan
Megan McConnell
Jessica Salvador
Beth Scholler
Ann Trail
Melissa Wensel
The Transfer eNewsletter is a project of the UW Undergraduate Advising Gateway Center.
UW Tacoma Open House and Downtown Tacoma's ArtWalk
By Erica Coker, UW-Tacoma Admissions
Been to Tacoma lately? The city of Tacoma has undergone a major transformation in recent years, thanks in large part to the University of Washington Tacoma. Located in a part of the city that, for years, sat vacant and unused, UW Tacoma set out to revitalize architecture and intellectual life, and almost 20 years later downtown Tacoma is vibrant and full of life.
Every 3rd Thursday of the month, UW Tacoma is proud to host its Open House, an event that highlights the vibrancy of both the city and the University. Held from 4 to 7 p.m., prospective students can have questions answered and get acquainted with the campus. Representatives from undergraduate and graduate programs, financial aid, and admissions advising are present to answer questions and provide information. Campus tours and program-specific workshops are also scheduled throughout the event. The tours are a great opportunity to learn more about some of Tacoma's history and to view this beautiful campus from an insider's perspective. Workshops help prospective students who have already decided on a program of study learn how to put together a competitive application.
UW Tacoma's Open House coincides with downtown Tacoma's 3rd Thursday ArtWalk. The Tacoma Art Museum, Museum of Glass, and Washington State History Museum are all within two blocks of campus and admission is free during ArtWalk. There are also numerous smaller art galleries, accessible by the free Link light rail system, that participate in ArtWalk, and downtown Tacoma boasts a wide variety of restaurants, from fun and funky cafes to world-class seafood and steak houses, so there are plenty of opportunities to create a memorable evening out while gathering information on the University.
Join UW Tacoma every 3rd Thursday from 4 to 7 p.m. in the GWP Atrium. For more information, please visit: www.artwalktacoma.com.
For a map of the campus and driving directions, please visit: www.tacoma.washington.edu/campus_map.
See you there!