Welcome from the Editor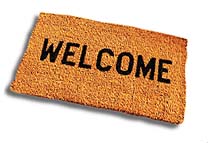 Happy Trails...
The Transfer eNewsletter has one primary intent: to help prospective transfer students know more about UW, make effective academic and experiential choices now and in the future, and maximize the educational opportunities once they arrive on campus. To that end, we regularly work with students who are finishing one phase of their education and moving onto another. Read more...

The Beat Goes On
Megan McConnell is a hard act to follow! She is an incredibly accomplished adviser who works tirelessly to address the concerns of students and advisers alike... Read more...

Admissions Update
When will University of Washington autumn quarter applicants receive their decisions? June - July is our official notification period. However, about 1/3 of our transfer decisions were mailed in May, and those applicants have already received their decisions. Very shortly, we will be mailing decisions to the majority of those who are still waiting. So, this seems like a good time to remind applicants and other interested people how the decision process works at the University of Washington (UW). Read more...

Evening Degree Lowering Tuition
Beginning autumn 2013, the Undergraduate Evening Degree Completion program is lowering its instructional fees for Arts and Sciences Communication, English, Humanities and Social Science majors. The cost of instruction for these majors will be $299 per credit regardless of the number of credits taken. Read more...





Public Health Updates
The Public Health Major has grown in size while making some exciting curricular changes and the School of Public Health (SPH) has added yet another undergraduate program: the nutritional sciences minor. Read more...