Spring 2013 | Issue No. 24
UW VIRTUAL TOUR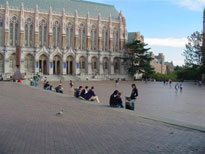 TRANSFER THURSDAYS
Thinking about transferring to the UW? If you are,
Transfer Thursday is your gateway to transfer information
. At a Transfer Thursday session, you can speak to an admissions counselor who will tell you all about applying to the UW. You can also meet with an undergraduate academic advisor who will help you prepare for your intended UW major. Bring your questions and your unofficial transcript(s). It's one-stop shopping for the prospective transfer student.
Where:
University of Washington
141 Mary Gates Hall
When:
Every Thursday afternoon.
Click here to view the scheduled activities
.
For more information:
(206) 543-2550 or click
here
.
CREDITS
Donna Sharpe
Editor
Jennifer Stock
Technical Designer
Contributors:
Tory Brundage
Joyce Fagel
Katie Freeman
Megan McConnell
Connie Montgomery
Michal Nolte
Molly Ormsby
Mona Pitre-Collins
Carlos Williams
The Transfer eNewsletter is a project of UAA Advising.
UW Tacoma Updates
UW Tacoma Still Open for Autumn 2013
The University of Washington Tacoma is accepting applications for autumn 2013 on a space available basis. Visit the UW Tacoma web site to start the transfer application and for more information on how to apply.
Prospective students can schedule an appointment with an admissions advisor or call the Office of Admissions at 253-692-4742 if they have questions about the transfer process.
MEDEX Northwest, the UW School of Medicine physician assistant training program, opened a Tacoma location on the UW Tacoma campus this spring. The MEDEX Tacoma program will offer the bachelor's PA educational program. Students interested in the program are encouraged to contact the MEDEX program directly.
The University of Washington Tacoma has several new partnerships with community businesses and organizations. Partnerships include working with FABLAB, the City of Tacoma and the Y.
FABLAB
The University of Washington Tacoma's Institute of Technology has a new partnership with FABLAB, a workshop that provides 3D printing, laser-cutting, computer controlled tools, and conventional shop tools. Starting this spring, UW Tacoma will offer some classes at FABLAB. The partnership gives students in the Computer Science & Engineering program access to design tools to build almost anything.
University Y
Starting this summer, UW Tacoma and the YMCA of Pierce and Kitsap Counties will be breaking ground on what will be a full-service Y on the UW Tacoma campus. The Y will serve UW Tacoma students, faculty and staff, and anyone with a Y membership. The facility will include space to serve students as a recreation center and student union building.
Plans are being made to build a facility that is 55,000 to 70,000 square-feet at South 17th Street and Market, across from UW Tacoma student housing in Court 17.
Prairie Line Trail
UW Tacoma and the City of Tacoma are collaborating to create a new trail from South Tacoma to the waterfront. The route travels through the middle of the UW Tacoma campus on the historic Prairie Line Trail. For more information, read one of the latest articles about the trail in the The News Tribune.