Spring 2013 | Issue No. 24
UW VIRTUAL TOUR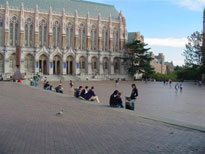 TRANSFER THURSDAYS
Thinking about transferring to the UW? If you are,
Transfer Thursday is your gateway to transfer information
. At a Transfer Thursday session, you can speak to an admissions counselor who will tell you all about applying to the UW. You can also meet with an undergraduate academic advisor who will help you prepare for your intended UW major. Bring your questions and your unofficial transcript(s). It's one-stop shopping for the prospective transfer student.
Where:
University of Washington
141 Mary Gates Hall
When:
Every Thursday afternoon.
Click here to view the scheduled activities
.
For more information:
(206) 543-2550 or click
here
.
CREDITS
Donna Sharpe
Editor
Jennifer Stock
Technical Designer
Contributors:
Tory Brundage
Joyce Fagel
Katie Freeman
Megan McConnell
Connie Montgomery
Michal Nolte
Molly Ormsby
Mona Pitre-Collins
Carlos Williams
The Transfer eNewsletter is a project of UAA Advising.
Evening Degree: Lowering Tuition: An Affordable Option and a Vibrant Learning Experience
Beginning autumn 2013, the Undergraduate Evening Degree Completion program is lowering its instructional fees for Arts and Sciences Communication, English, Humanities and Social Science majors. The cost of instruction for these majors will be $299 per credit regardless of the number of credits taken.
Students can attend part-time or full-time. As a fee based program, offering this lower rate will hopefully provide more access for students who are completing a degree while managing other day time commitments. Students pay per credit for all credits taken, whether it is 1-20. Financial aid is available. Since 1990, the Evening Degree program has granted degrees to over 3,000 students.
Some of the things students have said:
"The immersion in the program was really wonderful." —MA
"...the professors were very knowledgeable and enjoyed working with adults...I really felt welcomed to express my opinions and engage with my classmates and professors." —BM
The community of learners in the Evening Degree program is diverse and rich in experience, ethnicity and occupations. Students engage in conversations about academic work, life and meaning from many perspectives. The education received from classmates, professors and the rich exchange of experience make it a truly rewarding venture.
Students can still apply for autumn enrollment. The deadline is July 15th for submissions of materials. For any questions about the program or instructional fees, please visit our website or contact Evening Degree advising directly at 206-543-6160 or advisers@pce.uw.edu.