Spring 2013 | Issue No. 24
UW VIRTUAL TOUR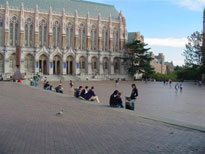 TRANSFER THURSDAYS
Thinking about transferring to the UW? If you are,
Transfer Thursday is your gateway to transfer information
. At a Transfer Thursday session, you can speak to an admissions counselor who will tell you all about applying to the UW. You can also meet with an undergraduate academic advisor who will help you prepare for your intended UW major. Bring your questions and your unofficial transcript(s). It's one-stop shopping for the prospective transfer student.
Where:
University of Washington
141 Mary Gates Hall
When:
Every Thursday afternoon.
Click here to view the scheduled activities
.
For more information:
(206) 543-2550 or click
here
.
CREDITS
Donna Sharpe
Editor
Jennifer Stock
Technical Designer
Contributors:
Tory Brundage
Joyce Fagel
Katie Freeman
Megan McConnell
Connie Montgomery
Michal Nolte
Molly Ormsby
Mona Pitre-Collins
Carlos Williams
The Transfer eNewsletter is a project of UAA Advising.
The Beat Goes On
By Donna Sharpe, Editor, Transfer eNewsletter
Megan McConnell is a hard act to follow! She is an incredibly accomplished adviser who works tirelessly to address the concerns of students and advisers alike. I have had the good fortune to work with Megan on a variety of projects including the annual CC/UW Advising Conference, new transfer student orientation and I partner with her as one of the two pre-law advisers in UAA Advising. Her willingness to tackle the tough jobs, as well as her incredible organizational skills and wonderful sense of humor make her the kind of colleague who is a pure joy to work with. Her magic touch has made this newsletter a useful tool for prospective transfer students and community college advisers alike.
My own commitment to transfer students is founded in my experience of thirty years on the Bellevue College campus as an adviser, counselor and faculty member. After moving to the UW in November 2010, I assumed duties that supported transfer students and promoted the transfer process. Taking over the Transfer eNewsletter is a natural extension of that path. Now I have to dust off those skills I learned as editor of my high school newspaper! I welcome your input and ideas on what you would like to see in this newsletter. I am most easily contacted via email at dsharpe@uw.edu.