Spring 2013 | Issue No. 24
UW VIRTUAL TOUR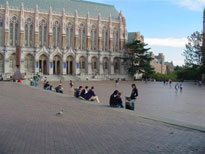 TRANSFER THURSDAYS
Thinking about transferring to the UW? If you are,
Transfer Thursday is your gateway to transfer information
. At a Transfer Thursday session, you can speak to an admissions counselor who will tell you all about applying to the UW. You can also meet with an undergraduate academic advisor who will help you prepare for your intended UW major. Bring your questions and your unofficial transcript(s). It's one-stop shopping for the prospective transfer student.
Where:
University of Washington
141 Mary Gates Hall
When:
Every Thursday afternoon.
Click here to view the scheduled activities
.
For more information:
(206) 543-2550 or click
here
.
CREDITS
Donna Sharpe
Editor
Jennifer Stock
Technical Designer
Contributors:
Tory Brundage
Joyce Fagel
Katie Freeman
Megan McConnell
Connie Montgomery
Michal Nolte
Molly Ormsby
Mona Pitre-Collins
Carlos Williams
The Transfer eNewsletter is a project of UAA Advising.
Happy Trails...
By Megan McConnell, Academic Counselor, UAA Advising
The Transfer eNewsletter has one primary intent: to help prospective transfer students know more about UW, make effective academic and experiential choices now and in the future, and maximize the educational opportunities once they arrive on campus. To that end, we regularly work with students who are finishing one phase of their education and moving onto another.
Well, with this issue, the Transfer eNewsletter itself finishes a phase and moves onto another. For the past 8 years, I've served as the editor of the Transfer eNewsletter. And while I will continue working in UAA Advising on the UW Seattle campus, the time has come for some fresh eyes to look at the publication, to bring new ideas and a new voice into its pages. It will be in the very capable hands of my colleague Donna Sharpe, who has some words of welcome below.
It's been my pleasure serving as the editor of the Transfer eNewsletter. I've gotten to learn lots of new things about the amazing university that I call home. I've gotten to meet faculty, staff, and students from here and across the state. And I've gotten to write, something I very much enjoy. Thanks to you for reading!