Spring 2013 | Issue No. 24
UW VIRTUAL TOUR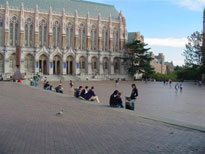 TRANSFER THURSDAYS
Thinking about transferring to the UW? If you are,
Transfer Thursday is your gateway to transfer information
. At a Transfer Thursday session, you can speak to an admissions counselor who will tell you all about applying to the UW. You can also meet with an undergraduate academic advisor who will help you prepare for your intended UW major. Bring your questions and your unofficial transcript(s). It's one-stop shopping for the prospective transfer student.
Where:
University of Washington
141 Mary Gates Hall
When:
Every Thursday afternoon.
Click here to view the scheduled activities
.
For more information:
(206) 543-2550 or click
here
.
CREDITS
Donna Sharpe
Editor
Jennifer Stock
Technical Designer
Contributors:
Tory Brundage
Joyce Fagel
Katie Freeman
Megan McConnell
Connie Montgomery
Michal Nolte
Molly Ormsby
Mona Pitre-Collins
Carlos Williams
The Transfer eNewsletter is a project of UAA Advising.
The MCAT is Changing in 2015!
By Joyce Fagel, Academic Counselor, UW Undergraduate Academic Affairs Advising and Shoreline Community College
Pre-med students and advisers, you may have heard the news already, the MCAT is changing.
What is changing? Starting in 2015 the exam will have a longer total length and consist of four sections:
Biological and Biochemical Foundations of Living Systems
Chemical and Physical Foundations of Biological Systems
Psychological, Social, and Biological Foundations of Behavior (this is a new section)
Critical Analysis and Reasoning Skills (this is a revision of the Verbal section)
Why is it changing? The exam needs to stay relevant to current medical knowledge and practices. The addition of section 3 reflects the growing understanding of behavioral factors in the health of individuals, in effective health care delivery by individual care providers, as well as the health care system as a whole. The content of the other sections is also updated.
Which exam will I take? If you want to start medical school in 2014 or 2015, you will take the current MCAT exam in 2013 or 2014. If you want to start in 2016 or 2017 you will probably take the new MCAT exam. Most medical schools will accept scores for two or three years after the date; this is specific to each school.
How do I prepare? A free Preview Guide for the MCAT 2015 Exam is already available on the MCAT web site. A study guide will be published in spring 2014. Course preparation will need to include: general biology, general chemistry, organic chemistry, biochemistry, general physics, psychology and sociology or other social science courses. An understanding of statistics is also recommended.
How are scores used? MCAT scores together with course grades and patterns provide a measure of academic strength and preparation. These will remain a very important aspect of your application, but admission committees consider many other factors, such as: exposure to health care and medical research environments, personal experiences and interests, potential contributions to the campus and community, and personal attributes, such as maturity and drive to help others.
Information in this article was mostly taken from: Aspiring Docs: How Do I...Prepare for the MCAT 2015 Exam? and the MCAT website.