Winter 2009 | Issue No. 14
IN THIS ISSUE:
Transfer Student Interview

Print-ready PDF version
UW VIRTUAL TOUR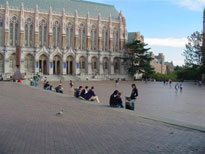 TRANSFER THURSDAYS
Thinking about transferring to the UW? If you are,
Transfer Thursday is your gateway to transfer information
. At a Transfer Thursday session, you can speak to an admissions counselor who will tell you all about applying to the UW. You can also meet with an undergraduate academic advisor who will help you prepare for your intended UW major. Bring your questions and your unofficial transcript(s). It's one-stop shopping for the prospective transfer student.
Where:
University of Washington
171 Mary Gates Hall
When:
Every Thursday 1:00 - 4:00.
Click here to view the scheduled activities
.
For more information:
(206) 543-2550 or click
here
.
CREDITS
Megan McConnell
Editor
Jennifer Stock
Web Producer
Contributors:
Heather Auyong
Melissa Bolstad
Gian Bruno
Judi Clark
Susan Inman
Kay Lewis
Megan McConnell
Connie Montgomery
Michal Nolte
Linda Olsen
Jentery Sayers
Susan Terry
Melissa Wensel
The Transfer eNewsletter is a project of Undergraduate Advising at the Gateway Center.
The Value of Internships
By Susan Terry, Director, UW Career Center
It's no doubt that these challenging economic times have everyone on the edge of their seat, wondering what's next. College students are no exception. But that doesn't mean all is lost. In fact, as a transfer student you are in a good position. Considering you likely have two years of University study ahead of you, this gives you ample time to prepare for an economy that could be on the mend and advancing in 2011.
There are many things you can do to prepare yourself for the job market as you continue your education. At the top of the list you should be considering an internship. Internships give students opportunities to work with professionals in a chosen field and showcase their talents and capabilities to a prospective employer. Employers increasingly use internships as a tool to hire graduates, so it is wise to incorporate one or more internships while a student.
Regardless of where you end up transferring, and we hope it's UW, resources are available to assist you in preparing for and finding an internship. At the UW Students can explore internship opportunities through the UW Career Center's HuskyJobs database where you will find employers who are looking exclusively for interns. There are numerous types of internships from academic-year internships to summer internships. Some departments post internships as well. Internships are the best way to jump-start a career and in some cases it's possible to receive credit as well.
If you're not convinced yet, here are a few more reasons to line up an internship:
It's the best way to stand out in a competitive job market.
It's the next best thing to a job offer.
It applies classroom learning to authentic work experience
It allows exploration of many career options, interests and abilities.
It develops and enhances professional skills.
It increases self-confidence.
It develops job search skills.
It provides networking opportunities with professionals.
It helps build a strong resume.
It shows interest and commitment to a specific field.
It helps earn academic credits
It can help pay for educational expenses.
It develops leadership skills and builds character.
Employers hiring for internships will expect a polished resume and usually require a formal interview. Here are a few resources to consider:
Resumes & Interviews
It is critical that your resume and interview preparation are stellar. Check and re-check your resume for spelling and grammar errors. Employers view an average of 25 resumes per position and interview an average of six applicants. One error can land your resume in the reject pile. For help with your resume and interviewing:
Review the 'Resume & Cover Letter' sections in the UW Career Center Career Guide, available online.
Download the Resume & Cover Letters Workshop. It is offered frequently each quarter.
Check out the UW Career Center's website for helpful handouts, workshop materials, and a wealth of web resources.
Check our online calendar for opportunities at our career fairs, career prep events, and Featured Employer Nights.
Keep focused on what is in your control versus forces beyond your control. Dream big and create back up plans along the way to increase odds of landing an internship or job. Wherever your transfer plans take you, utilize departmental resources and if you end up at the University of Washington make use of the UW Career Center. Keep an open mind about options and employers and cast a wide net. Understand that transferring from one college to another requires a period of adjustment to a different system, resources and in some cases a new geographic. It will take time and energy. You can do it!