Winter 2009 | Issue No. 14
IN THIS ISSUE:
Transfer Student Interview

Print-ready PDF version
UW VIRTUAL TOUR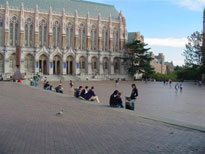 TRANSFER THURSDAYS
Thinking about transferring to the UW? If you are,
Transfer Thursday is your gateway to transfer information
. At a Transfer Thursday session, you can speak to an admissions counselor who will tell you all about applying to the UW. You can also meet with an undergraduate academic advisor who will help you prepare for your intended UW major. Bring your questions and your unofficial transcript(s). It's one-stop shopping for the prospective transfer student.
Where:
University of Washington
171 Mary Gates Hall
When:
Every Thursday 1:00 - 4:00.
Click here to view the scheduled activities
.
For more information:
(206) 543-2550 or click
here
.
CREDITS
Megan McConnell
Editor
Jennifer Stock
Web Producer
Contributors:
Heather Auyong
Melissa Bolstad
Gian Bruno
Judi Clark
Susan Inman
Kay Lewis
Megan McConnell
Connie Montgomery
Michal Nolte
Linda Olsen
Jentery Sayers
Susan Terry
Melissa Wensel
The Transfer eNewsletter is a project of Undergraduate Advising at the Gateway Center.
Helping to Pay for College: Financial Aid and Husky Promise
By Linda Olsen, Financial Aid Counselor
and Kay Lewis, Director, Financial Aid Office
Undergraduates at the University of Washington will receive over $200 million financial aid in 2008-2009. Although we are in a time of economic uncertainty, we expect to have as much financial aid available, if not more, in the upcoming school year. There is no "income cutoff" or other simple method of determining whether you will qualify for need-based financial aid. If you think you will need assistance in paying for college, you should apply. In general terms, "financial need" is defined as the difference between what it costs you to attend school and what you and your family can afford to pay. The University of Washington students use the Free Application for Federal Student Aid (FAFSA) to apply for aid. Go to www.fafsa.ed.gov and follow directions to file the Free Application for Federal Student (FAFSA). File your FAFSA as soon after January 1, 2009 as possible, noting University of Washington, Code #003798 in Step 6.
To ensure the UW remains affordable, the Husky Promise is a guarantee for Washington state students from low-income and lower-middle income families that if you are admitted, finances will not keep you from reaching your educational goals. To be eligible for the Husky Promise you must: admitted to the University of Washington; a Washington State resident; meet all eligibility for the Pell Grant or State Need Grant Program; submit the FAFSA before the UW's priority filing date of February 28, 2009. You must list the University of Washington (federal code #003798) as one of the colleges you wish to receive the results of your FAFSA. Only full-time undergraduates pursuing a first bachelor's degree are eligible for the Husky Promise. You can read more about this aid program at www.washington.edu/huskypromise.
We understand that seeking financial aid can be complex, and the financial aid office has counselors available to help students, parents, and prospective applicants. Our office is located on the first floor of Schmitz Hall at 1400 N.E. Campus Parkway. We are open to the public from 9:00 a.m. to 5:00 p.m., Monday through Friday. You may have your questions answered by calling us, 206-543-6101, between 9:00 a.m. and 4:45 p.m. The Office of Student Financial Aid is here to assist you.