Winter 2009 | Issue No. 14
IN THIS ISSUE:
Transfer Student Interview

Print-ready PDF version
UW VIRTUAL TOUR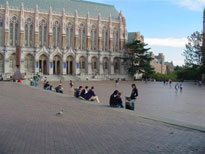 TRANSFER THURSDAYS
Thinking about transferring to the UW? If you are,
Transfer Thursday is your gateway to transfer information
. At a Transfer Thursday session, you can speak to an admissions counselor who will tell you all about applying to the UW. You can also meet with an undergraduate academic advisor who will help you prepare for your intended UW major. Bring your questions and your unofficial transcript(s). It's one-stop shopping for the prospective transfer student.
Where:
University of Washington
171 Mary Gates Hall
When:
Every Thursday 1:00 - 4:00.
Click here to view the scheduled activities
.
For more information:
(206) 543-2550 or click
here
.
CREDITS
Megan McConnell
Editor
Jennifer Stock
Web Producer
Contributors:
Heather Auyong
Melissa Bolstad
Gian Bruno
Judi Clark
Susan Inman
Kay Lewis
Megan McConnell
Connie Montgomery
Michal Nolte
Linda Olsen
Jentery Sayers
Susan Terry
Melissa Wensel
The Transfer eNewsletter is a project of Undergraduate Advising at the Gateway Center.
3D4M: A New Learning Approach for Students Interested in the Three Dimensional Arts
By Judi Clark, Director of Academic Advising and Student Services, UW School of Art
3D4M stands for "Three Dimensions Four Media/Forum" and is a consortium that includes tracks in the study of Ceramics, Glass, Public Art, and Sculpture. The mission of this group is to explore interdisciplinary exchanges that revolve around material study, concept, and critical dialog in a studio-based environment.
This new consortium offers a BFA geared to students who want to pursue a career in the arts. Students entering this program will choose to concentrate their studies in one on these four tracks while working alongside and in conjunction with students working in the other three. The senior year of this BFA is dedicated to independent and guided studio research culminating in a group exhibition in the Jacob Lawrence Gallery and a one- or two-person exhibition in the 3D4M Gallery.
Six full-time faculty and three instructional technicians work with a wide range of students. Entry-level classes are taught in the School of Art on the main Seattle campus. Intermediate and advanced students take classes and work in the Ceramics and Metal Arts /3D4M building where there are extensive facilities for ceramics, wood and metal fabrication, a foundry, and a digital imaging center. On an interim basis, glass classes will be offered off site at the Pratt Fine Art Center.
As a complement to the basic course offerings, a number of extra-curricular opportunities will greatly enhance the student experience. These include a 12-month schedule of exhibitions in the 3D4M Gallery, a year-long series of visiting artists and lectures, off-site visits to museums, galleries and artist studios, and opportunities to work alongside graduate students and community artists in joint projects.
This new curriculum should be official by autumn 2009, subject to final approval. While the present School of Art web site lists 3D4M as a degree option the curriculum listed under that option is not accurate. Changes are forthcoming. Prospective students are invited to attend an information session by the School of Art; check the Transfer Thursday schedule for upcoming dates. Alternatively, students may drop in to Art 104 for advising Monday through Thursday from 11 a.m. to 3 p.m.