Health Sciences Center Minority Students Program
Teach Lab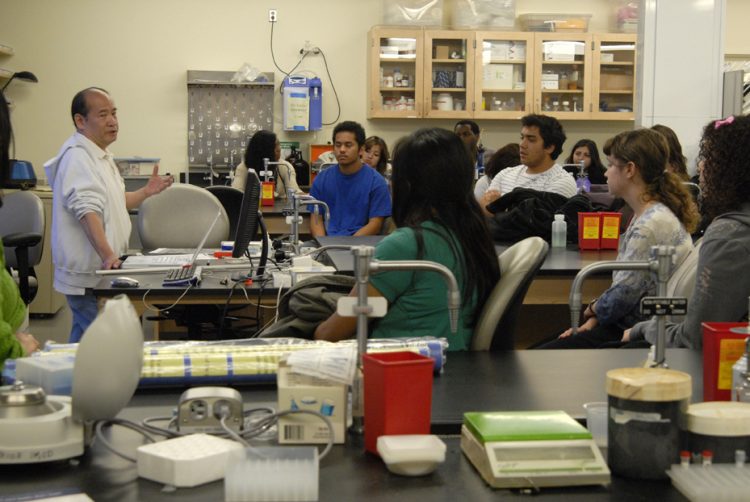 Teach Lab is an opportunity for rising sophomore students to learn and practice many of the skills used in biomedical research. This 10-week summer program is recommended for undergraduate students who think they will pursue laboratory internship experiences as part of their preparation for medical or dental school. In addition to receiving hands-on instruction in common laboratory techniques (e.g., solution and gel preparation, cell culture, ELISA and much more), participants also receive instruction that helps them understand research concepts, experimental design and the fundamentals of documenting one's work in a laboratory notebook.
To be eligible, students must be of a demonstrated disadvantaged background and have successfully completed one year of undergraduate studies at the UW including at least one year-long series in calculus or science with a GPA of 3.0 or higher. A stipend is provided.
The application period for this year is not yet opened. Please visit this page at another time or email hscmsp@uw.edu to express your interest and be notified through our mailing list.
When
Summer program between freshman and sophomore year
Demonstrated Disadvantaged Background
Pell Grant Eligible
1st generation student to attend college
Eligibility
US Citizen or permanent resident
Matriculated full-time UW student (12 credits/quarter) in a baccalaureate degree program
Demonstrated commitment and/or interest in serving minority and disadvantaged communities (i.e., have you volunteered, participated in research, or engaged in community service in such settings)
Academic Requirements
Freshmen (0-44 credits earned at the UW; *Running Start and transfer students expecting to graduate from the UW in the next 3 years):
Minimum GPA of 2.6 in college science and math introductory courses
Cumulative GPA 3.0 or better
Completion of introductory math & science series: MATH 120 and above. CHEM 142 and above.