Contact
Keck Center Manager:  Dr. Nathaniel Peters

BA Biology – Claremont Mckenna College '06
Embryology – MBL Woods Hole '11
PhD Molecular and Cellular Biology – University of Washington '15
Analytical & Quantitative Light Microscopy – MBL Woods Hole '16

Email:  ncpeters@uw.edu
Office phone:  206-685-8784
Office location:  K507B
Location
The Keck Center is located in Room 507 of the K-wing of UW's Magnuson Health Sciences Building.  The HSB K-wing is also known as the Fialkow Biomedical Research Pavillion. The K-wing can be accessed on Floor -1 via doors by the South Gatehouse on NE Boat Street (Floor -1), on Floor 1 via outer doors facing Hitchcock Hall or through the Rotunda Cafe, or on Floors 1-5 via J-wing corridors.  Stairwells, passenger elevators, and a service elevator can then be used to reach the 5th floor of the K-wing and the Keck Center. The outer door of the Keck Center requires a keycode.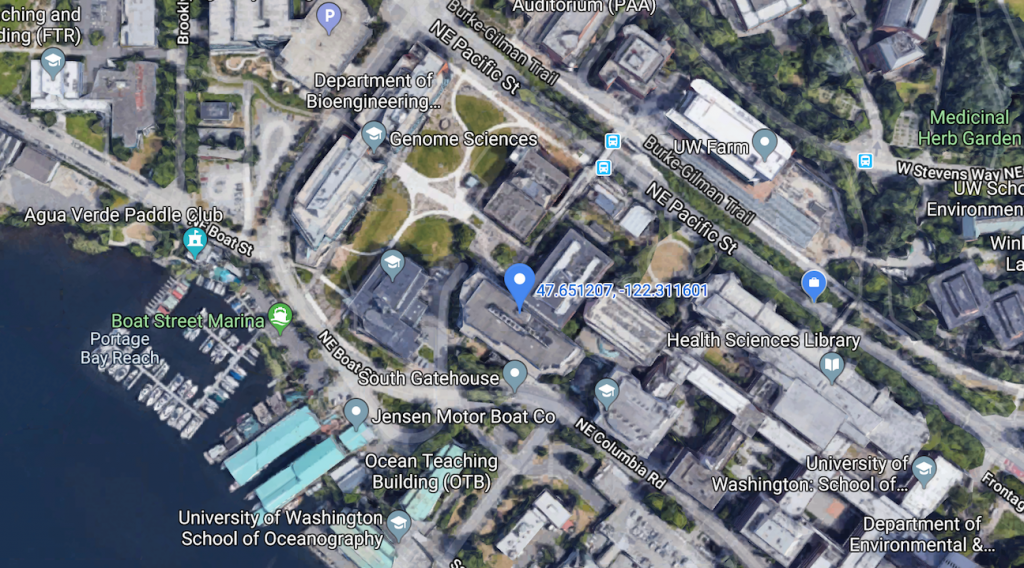 Shipping
Mail and small deliveries/shipments that can be carried should be sent to the PBio main office, not to the Keck Center:
University of Washington
Dept. of Physiology and Biophysics
Health Sciences Building G-424, Box 357290
Seattle, WA 98195
Large deliveries, such as microscope systems packaged in shipping crates, should be delivered directly to the Keck Center via the K-wing Loading Dock.  Please contact the Keck Center Manager before shipping any items directly to the Keck Center.
K-wing Loading Dock
3500 NE Columbia Road
Seattle, WA 98195