In addition to the Keck Center's COVID-19 Safety Plan (below), the following 2 links to COVID-19 resources are recommended by the Office of Research.
Mitigating Impacts to Research Activities Due to COVID-19
Novel coronavirus & COVID-19: facts and resources
COVID-19 Safety Plan
The Keck Center has implemented the following COVID-19 Safety Plan for critical personnel in accordance with UW School of Medicine guidelines and with approval of the Departments of Physiology & Biophysics (PBio) and Pharmacology
Access and Approved Personnel
Personnel who wish to use the Keck Center must request access from the Keck Center Manager and go over the COVID-19 safety plan in person with the manager. Users must agree to adhere to its guidelines before they are granted permission to access online reservation calendars and the Keck Center. Only personnel who make advanced reservations and follow reservation guidelines may access the Keck Center to use its microscopes and/or image analysis computers.
Each day, Keck Center users with reservations for that day must email the Keck Center Manager and confirm that they do not have COVID-19 symptoms BEFORE they may enter the Keck Center. This email confirmation can be a simple a statement that they have completed the attestation. Keck Center users will not be permitted to enter the Keck Center without this confirmation.
Safety Practices
Plan for minimizing the number of approved users in the Keck Center
The Keck Center already employs online reservation calendars to reserve time on microscopes and/or image analysis computers. Only approved users who agree to adhere to COVID-19 guidelines may make reservations to reserve equipment at the Keck Center. Only a single user will be able to use any piece of equipment at a given time.
USERS MUST LEAVE AT LEAST A 30-MINUTE GAP BETWEEN ONLINE RESERVATIONS. This 30-minute gap time is not intended to be there for you to finish imaging, clean your station, and/or transfer files. It is meant to leave the room/station unoccupied so that the air can adequately circulate between users.
You should plan to end by the end time of your reservation. If you find yourself consistently being rushed at the end of your reservation, then it is your responsibility to plan ahead, be on time, and reserve additional time in the future.
Plan for maintaining at least 6 feet between researchers in the Keck Center
The 4 microscope systems at the Keck Center are housed in 4 separate rooms within the Keck Center. The largest room contains a microscope and a shared image analysis computer, but these systems are separated by at least 6 feet of distance and a plastic curtain. Typically, only a single user at a time is allowed to work in any given room, or two users within the largest room, and only with prior online reservations. Exceptions can be made for lab members who work together, up to 2 people in a room, with prior communication and approval from the Keck Center Manager.
If the Keck Center manager has to enter a room to assist a microscope user, the Keck Center manager will wear gloves and a face mask, will maintain at least 6 feet of distance from the user, and will do everything possible to minimize the amount of time spent in the room.
Plan for safe practices in the facility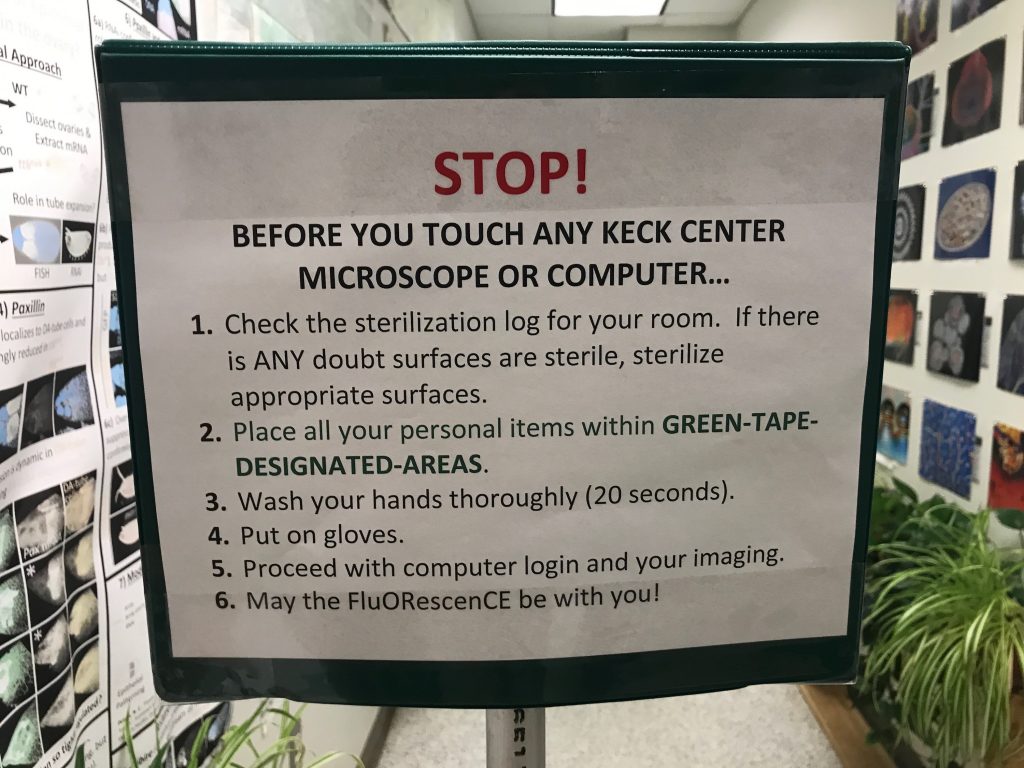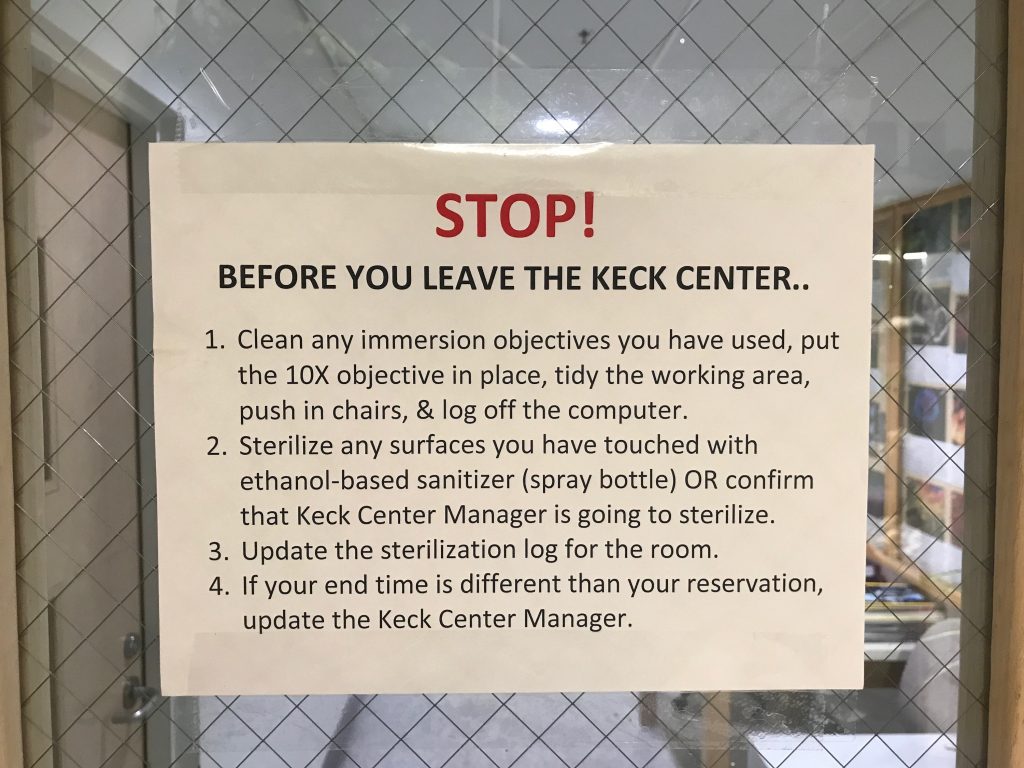 Keck Center users must wash their hands after entering the Keck Center, with soap and for at least 20 seconds, and put on gloves before they may use any Keck Center microscope or computer. Each room in the Keck Center possesses disinfection station with sink, foaming hand soap, separated paper towels, separated pairs of nitrile gloves, 70% ethanol disinfection spray, KimWipes, ammonium chloride wipes, and hand sanitizer.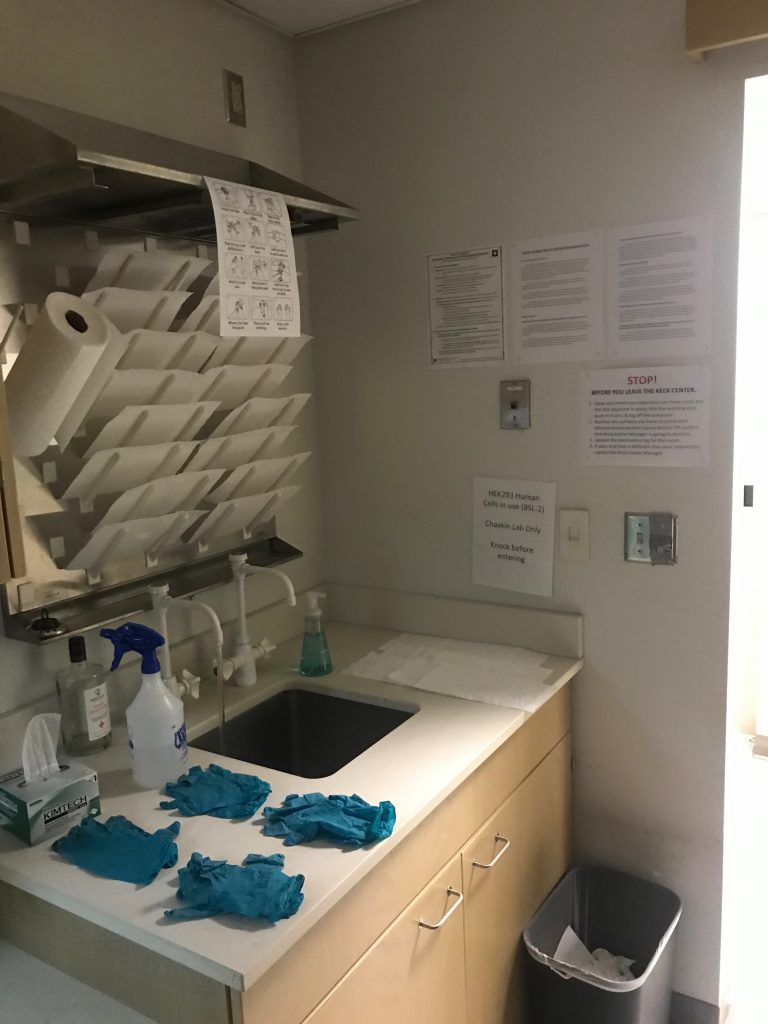 Disposable gloves AND facial coverings must be worn by Keck Center users operating microscopes and/or image analysis workstations. Users are encouraged to bring their own gloves, but gloves will also be available at the Keck Center. Keck Center users should also wear face masks while in the Keck Center and while using Keck Center equipment.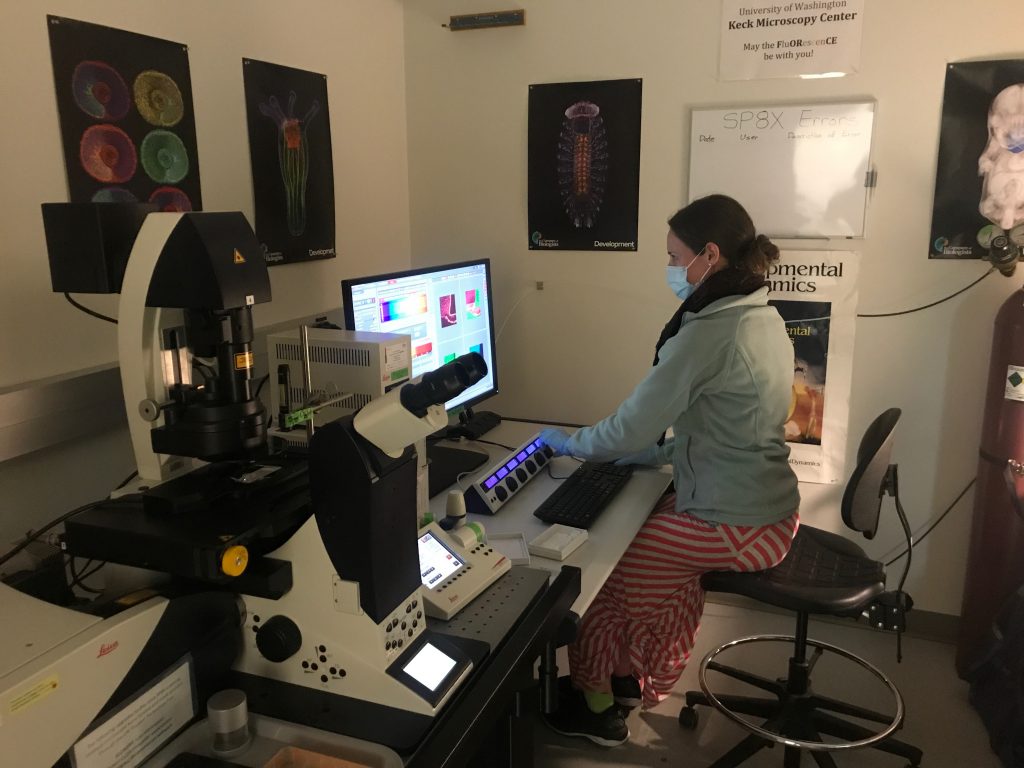 Microscopy samples, notebooks, and other imaging-related items brought by Keck Center users for imaging in the Keck Center must be placed within GREEN-TAPE-DESIGNATED, confined, areas on benchtops and/or tabletops. Keck Center users will not be allowed to place items outside of these areas, or must request additional space from the Keck Center Manager prior to imaging.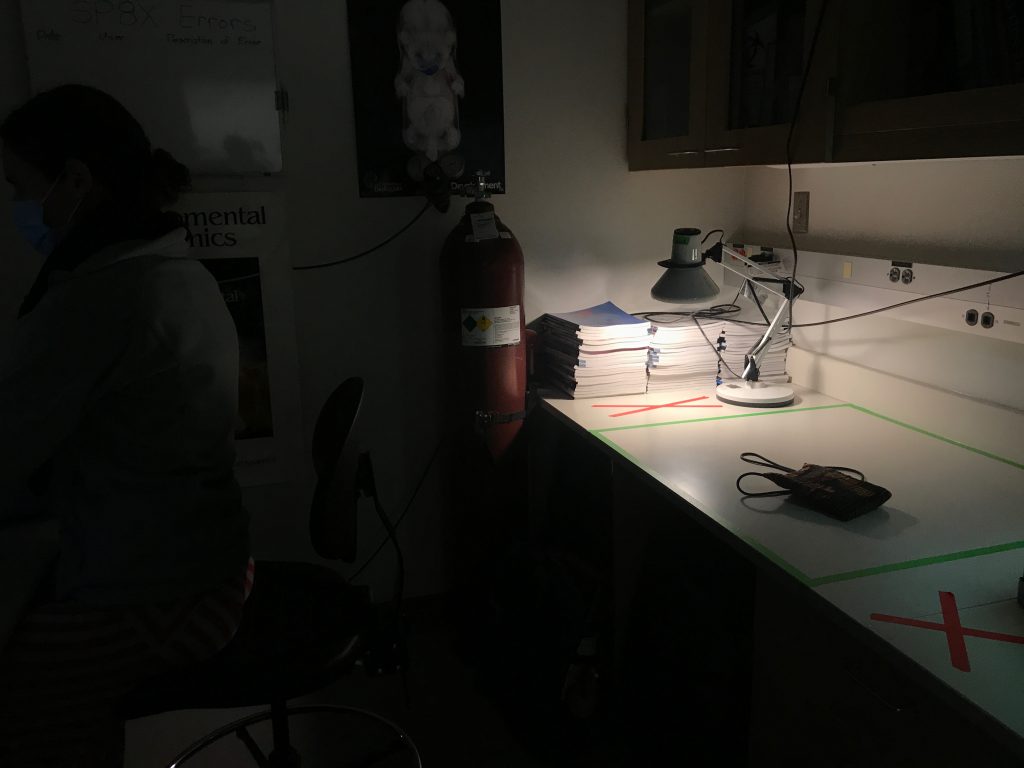 Plan for disinfecting shared equipment and surfaces
Shared equipment and surfaces, such as microscope focus knobs, buttons, eyecups, arms, touchscreens, & switches, keyboards, computer mice, chair backs, and GREEN-TAPE-DESIGNATED areas, will be disinfected before and after each use with approved disinfectants, either by the user or the Keck Center Manager. Each room in the Keck Center contains a whiteboard for logging disinfections (date, time, initials). There is hand sanitizer by each disinfection log to disinfect the dry erase marker after use. The Keck Center Manager will disinfect the keypad and door handle used to gain access to the Keck Center frequently.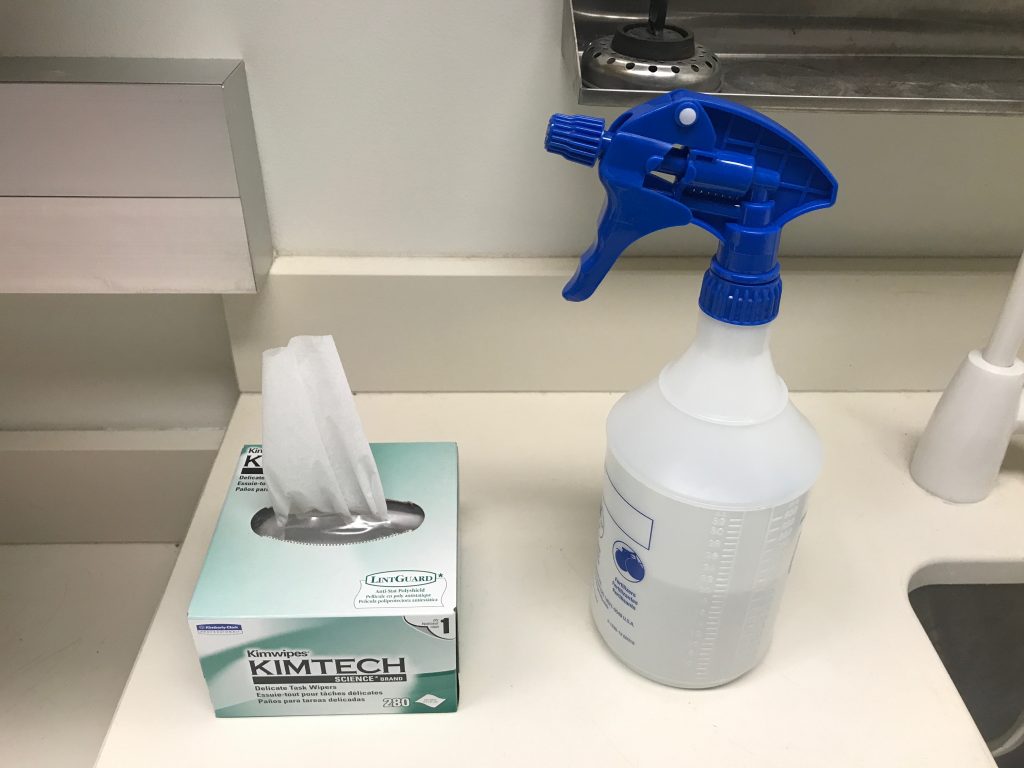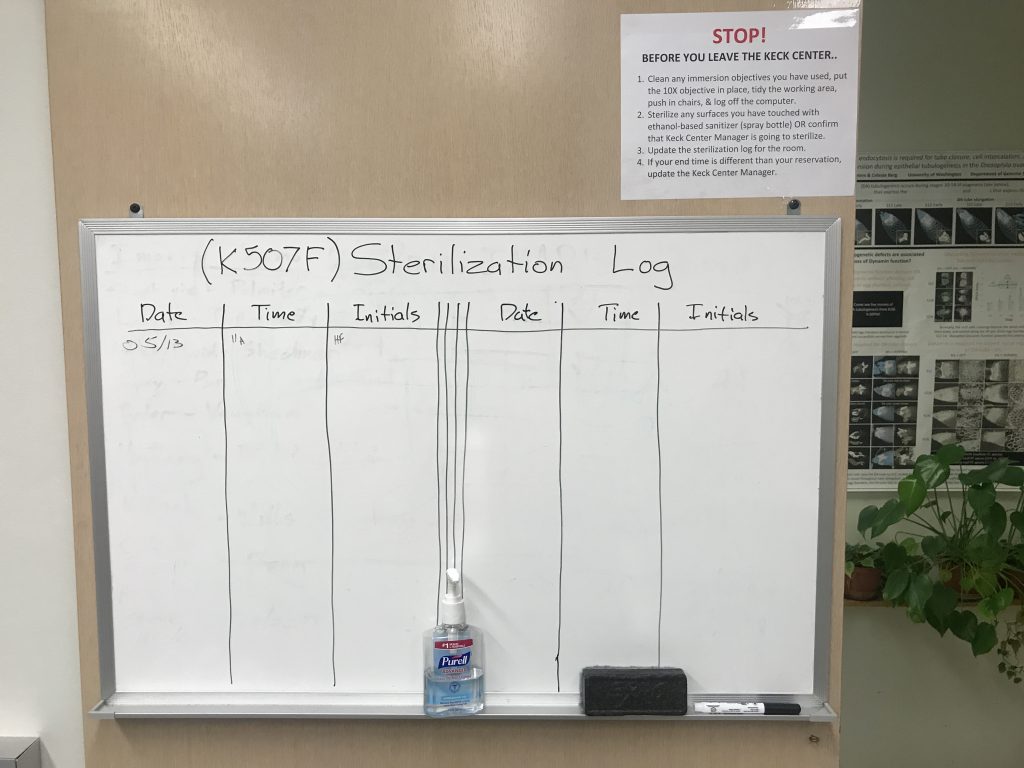 Confirmation that the Keck Center Manager has discussed these issues with all Keck Center users, and that Keck Center users are satisfied with the plan
The Keck Center Manager will keep a list of approved Keck Center users who have gone over this safety plan and agree to adhere to its guidelines. Users are encouraged to provide feedback to the Keck Center if they notice any risks not addressed by the this safety plan and/or have thoughts pertaining to how the safety plan could be improved.