Photos: SEIU Local 925
SEIU Local 925 is the largest union on campus, representing more than 8,000 University of Washington employees. Members come from an increasingly diverse range of job categories including secretaries, administrative assistants, program coordinators, technicians, and patient service representatives.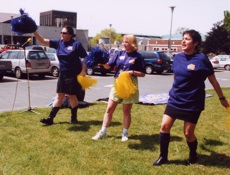 The union was born in the 1970s when clerical workers, tired of being ignored by the labor movement and exploited on the job, organized the Classified Staff Association on campus. At the same time, Karen Nussbaum, a secretary at Harvard University, was organizing a nationwide movement of clerical workers, called "9 to 5". That organization inspired a popular film and then in early 1980s affiliated with the Service Employees International Union becoming SEIU Local 925. CSA soon affiliated and has since become one of the most dynamic segments of that fast growing union.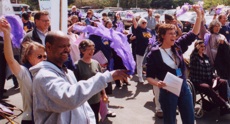 Kim Cook is President of Local 925 in Washington State. In addition to the UW chapter, SEIU Local 925 has members in at least a dozen other schools and government offices in the state of Washington. Its parent union has more than 1.5 million members nationwide.
SEIU Local 925 maintains a website that has information about membership, union operations, and on-going campaigns. Click on the union logo below.

Below are a number of links and reports that provide detailed information on this important union and its members.
"Organizing Like Crazy"--Reg Gomez describes his interactions with union members and leaders in this compelling report. He profiles chapter President Rene DeVine and former President Dornie MacKenzie.
"A Quick History"-- Cindy Cole, an 18 year employee of SEIU Local 925, wrote this quick and lively account of the early history of this pioneering union, one of the first to be built by women.
"Steward Profiles"--Graham Ford profiles three of the union's most effective shop stewards. Shop stewards are the key to the success of SEIU 925. While working their campus jobs full-time, they also help fellow employees with grievances. .