Get In Touch
Driving Directions to DISC
Driving Directions to the Triangle Parking Garage of the UWMC as well as to the S1 Parking Garage with direct access to DISC are available here. During COVID, The triangle garage is preferable.
Directions to DISC from UWMC main lobby
Diagnostic Imaging Sciences Center (DISC) is located in the basement in rooms AA010 to AA048 in the basement of Health Sciences building at the University of Washington Medical Center.
To find the lab from the main entrance of the University of Washington Medical Center (UWMC): From the main entrance to the Medical Center (across from the information desk), make a right turn and follow the hallway to the Pacific elevators. (You will pass the Pacific elevators. Do not use these elevators, they don't reach the basement level). Continuing down this hallway, you will reach the BB elevators, which will be on your right side. Pass the BB elevators. Do not use these elevators. Make a left to RR elevators. Take these elevators to the -1 or B level. After exiting the elevator, turn left and continue to the double door at the end of the hallway. Then turn right and pass through the purple entrance.
Site Map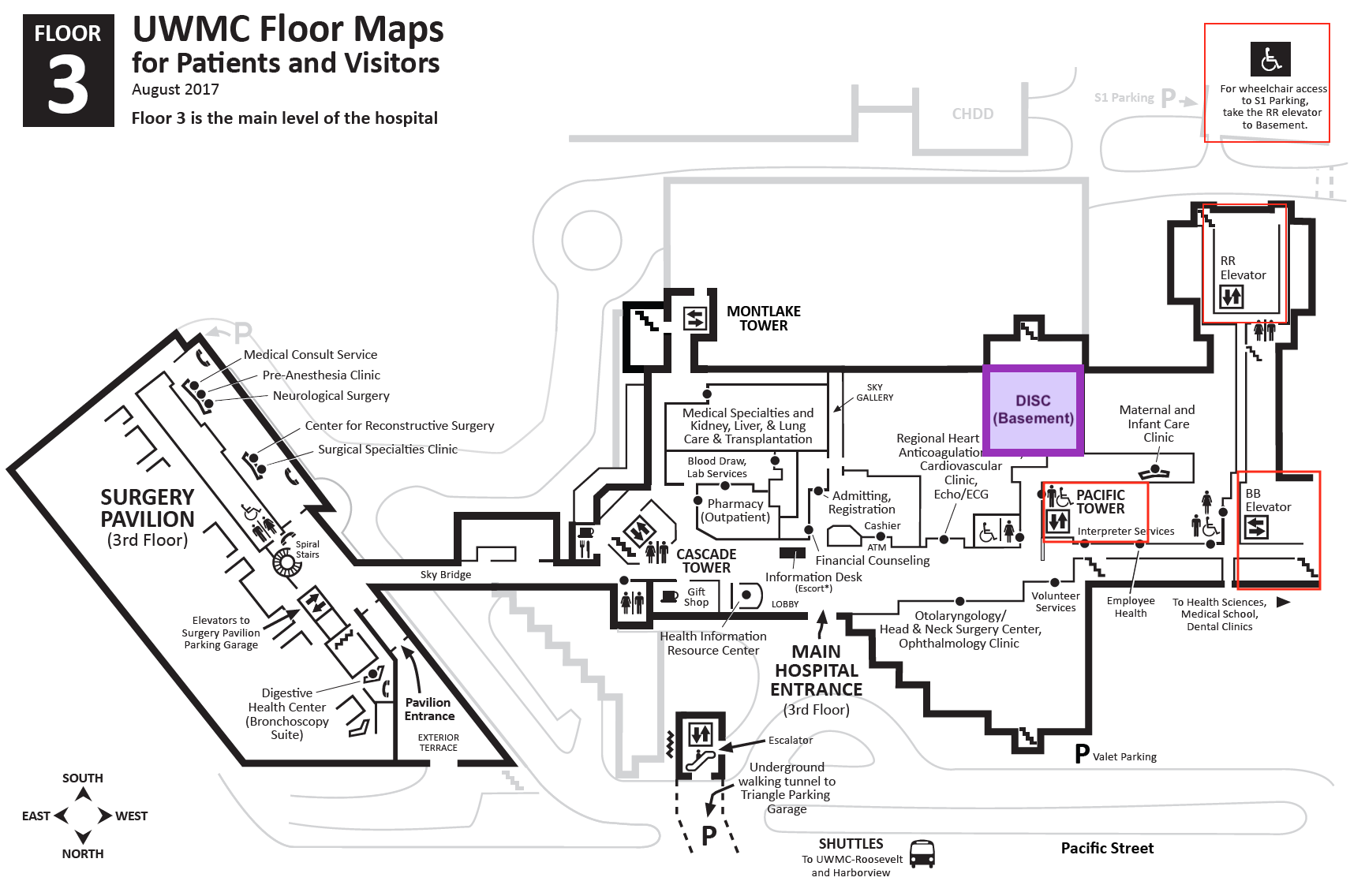 Parking instructions for studies
There are two parking options available:
Arranged parking: This option can be used for Triangle Garage. This lot is further away from DISC.
Coupon codes: This option is available for self-serve parking spaces in S1 Garage, which is the most convenient for DISC.
The second option is preferred. Parking permits or codes can be ordered using a UW budget number at
this link
. These options are listed under 'For visitors.' In both cases, you will be charged only after the service is used.
Phone
Email
DISC Support
Address
Open hours
Monday–Friday: 8:00am–5:00pm