Compressing Images in Microsoft Word 2003
Is your TRIO Quest PhotoEssay too big to upload? This page will show you how to compress images within a Microsoft Word 2003 document.
As an alternative to using an image editing program such as Photoshop, you can optimize your images for the Web within Microsoft Word 2003. To meet the uploading requirements, your .doc file must have a file size of less than 200 KB. Each image within the PhotoEssay must be less than 50 KB. (The PhotoEssay may contain a maximum of 3 images.)
To reduce the file size of the photos within your Word Document
1. Select your photo within the Word document. Right-click (Mac Users CTR+Click) on the picture and select "Show Picture Toolbar."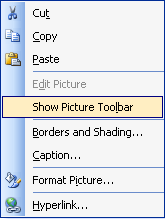 2. With the picture selected, click on the "Compress Pictures" tool.

3. The "Compress Pictures" dialog box appears. Under "Apply to," select "All pictures in document." Under "Change resolution," select "Web/Screen." This will change the resolution to 96 dpi. Under "Options" select "Compress pictures" and then select the "OK" button.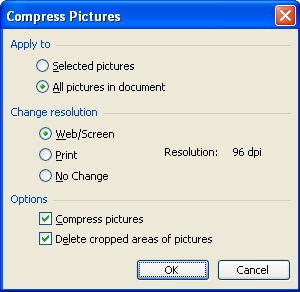 4. A dialog box appears warning "Compressing Pictures may reduce the quality of your images. Do you want to apply picture optimization?" Select the "Apply" button and save your document.

To view the file size of your document
1. After saving your changes, go to the "File" menu and select "Properties."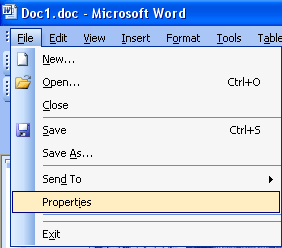 2. The "Properties" box appears. Click on the "General" tab. See the "Size:" of the document to get the file size. For PhotoEssays, it must be less than 200 KB.