Welcome from the Editor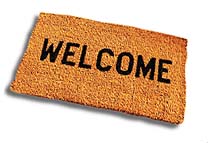 May on a college campus always feels like the "Hello, Goodbye Month" to me. It is the time when we are wishing our graduates sincere congratulations on their accomplishments and hard work, and wishing them well in the next challenges and adventures in their lives. Read more...

Admissions Update
Is it easier to get into the UW summer quarter? We're often asked this question by prospective transfer students who are trying to decide whether to apply summer or autumn quarter. Read more...

Studying Abroad: The World is Your Oyster
Many transfer students wonder about study abroad. Transfers often wonder whether they can study abroad and still graduate on time, or whether they can afford a study abroad program. Read more...

Exploring Law School information session now online!
The Pre-Law Advising Team at the University of Washington has recently developed an online version of its popular "Exploring Law School" information session. Read more...

The College of Engineering PEERs Program: An Interview with Transfer Student Annie Gillan
Annie Gillan, a senior studying Industrial and Systems Engineering, transferred to the University of Washington from Bellevue Community College after two years as a Running Start student. Read more...

New Facilities at UW Bothell!
Science and Academic Building, Sports Field and Recreation Complex, Student Housing, Sarah Simonds Green Conservatory, & The SPOT
Read more...

Community College Advising Days
Admissions Advisers are coming to a community college near you. Read more...


Transfer Student Interview: Jason Sims

Listen as Jason Sims, biology major, discusses transferring to the UW, his experience as a veteran on campus, and balancing school and family life.

Transfer Interest Groups...or TrIGs for short
A TrIG has nothing to do with Trignometry but it has EVERYTHING to do with helping incoming transfer students transition well into the UW. Read more...

Majors-Based Transfer Advising & Orientation Coming in Summer 2012
This summer more new transfer students than ever will be able to participate in advising & orientation (A&O) sessions that connect them immediately and positively with their intended majors. Read more...

So you've been admitted...now what?
The University of Washington is HUGE and to make it easier for you to navigate your first quarter, First Year Programs (FYP) offers Advising and Orientation (A&O). This is a mandatory program for all new students that assist you in getting started on the right foot. Read more...

The Certificate of International Studies in Business Program: Developing Global Business Leaders
The Certificate of International Studies in Business (CISB) Program is an award-winning program of the UW Foster School of Business and has consistently ranked in the top tier of undergraduate international business programs. Read more...

Technology for your future: UW programs provide valuable computing skills
Are you technically savvy? You may be able to update Facebook from your phone, but that probably won't help you get a job. As employers and students realize the value in subjects like databases, computer programming, and web design, UW departments are adding courses and expanding programs to meet this demand. Read more...

Scholarships for Future Huskies
New 2012 Martin Achievement Scholars; Deadline for the Martin Family Honors Scholarship is Friday, July 6, 2012
Read more...