Spring 2012 | Issue No. 22
UW VIRTUAL TOUR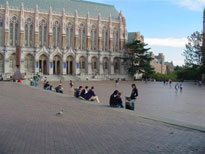 TRANSFER THURSDAYS
Thinking about transferring to the UW? If you are,
Transfer Thursday is your gateway to transfer information
. At a Transfer Thursday session, you can speak to an admissions counselor who will tell you all about applying to the UW. You can also meet with an undergraduate academic advisor who will help you prepare for your intended UW major. Bring your questions and your unofficial transcript(s). It's one-stop shopping for the prospective transfer student.
Where:
University of Washington
141 Mary Gates Hall
When:
Every Thursday afternoon.
Click here to view the scheduled activities
.
For more information:
(206) 543-2550 or click
here
.
CREDITS
Megan McConnell
Editor
Jennifer Stock
Web Producer
Contributors:
Raven Avery Alexander
Dowell Eugenio
Deanna Fryhle
Mary Larson
Megan McConnell
Alexis Nelson
Namura Nkeze
Michal Nolte
Molly Ormsby
Mona Pitre-Collins
Sara Stubbs
Mel Wensel
Carlos Williams
The Transfer eNewsletter is a project of UAA Advising.
Admissions Update
By Carlos Williams, Assistant Director, Undergraduate Admissions
Is it easier to get into the UW summer quarter?
We're often asked this question by prospective transfer students who are trying to decide whether to apply summer or autumn quarter. It is an important question to consider since applicants to the UW have to choose one or the other. They cannot apply for both quarters.
Some applicants believe summer quarter is the easier quarter because fewer students apply. It is true that fewer students apply for summer quarters. Last year, for example, 461 Washington community college students applied for summer quarter, while 2925 applied for autumn quarter. In 2010, 405 Washington community college students applied for summer quarter, while 2680 applied for autumn quarter.
However, if we look at the admit rate for each quarter as a percentage of those who applied, it tells a different story: fewer summer quarter students are admitted as a percentage than autumn quarter applicants.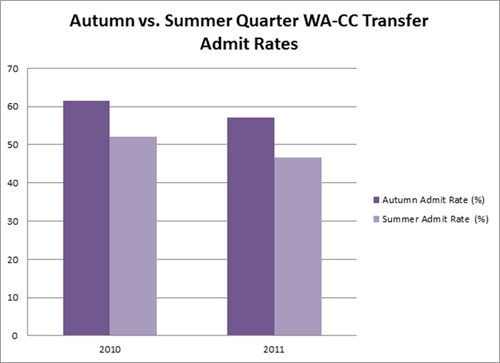 Admit rate by percentage:
46.6% admitted summer 2011 vs. 57.2% admitted autumn 2011
52.1% admitted summer 2010 vs. 61.6% admitted autumn 2010
So, when is the best quarter to apply?
You should apply based on the quarter you want and not when it's the easiest to get in.