Spring 2012 | Issue No. 22
UW VIRTUAL TOUR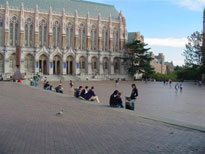 TRANSFER THURSDAYS
Thinking about transferring to the UW? If you are,
Transfer Thursday is your gateway to transfer information
. At a Transfer Thursday session, you can speak to an admissions counselor who will tell you all about applying to the UW. You can also meet with an undergraduate academic advisor who will help you prepare for your intended UW major. Bring your questions and your unofficial transcript(s). It's one-stop shopping for the prospective transfer student.
Where:
University of Washington
141 Mary Gates Hall
When:
Every Thursday afternoon.
Click here to view the scheduled activities
.
For more information:
(206) 543-2550 or click
here
.
CREDITS
Megan McConnell
Editor
Jennifer Stock
Web Producer
Contributors:
Raven Avery Alexander
Dowell Eugenio
Deanna Fryhle
Mary Larson
Megan McConnell
Alexis Nelson
Namura Nkeze
Michal Nolte
Molly Ormsby
Mona Pitre-Collins
Sara Stubbs
Mel Wensel
Carlos Williams
The Transfer eNewsletter is a project of UAA Advising.
Transfer Interest Groups…or TrIGs for short
By Namura Nkeze, Transfer and Commuter Student Programs Coordinator, First Year Programs
A TrIG has nothing to do with Trignometry but it has EVERYTHING to do with helping incoming transfer students transition well into the UW. TrIGs stands for Transfer Interest Group. They are 2-credit courses taught by currently enrolled students who understand the transfer process through firsthand experiences. Topics discussed in the TrIG include, but are not limited to, accessing academic resources, student involvement, undergraduate research and disciplinarity.
TrIGS are offered based upon academic area and are a great course to add on to any schedule. You will find information on last year's TrIG program offering at http://fyp.washington.edu/transfer_commuter/trigs/. This site will be updated in June. Enrolling in a TrIG your first quarter is easy. During your Summer Advising and Orientation session you will receive all the information you need in your Advising and Orientation folder.
TrIGs are a great way to get to know your new academic home. If you have questions about TrIGs please e-mail figtrig@uw.edu.