Spring 2012 | Issue No. 22
UW VIRTUAL TOUR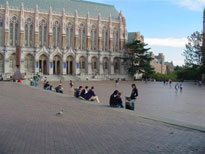 TRANSFER THURSDAYS
Thinking about transferring to the UW? If you are,
Transfer Thursday is your gateway to transfer information
. At a Transfer Thursday session, you can speak to an admissions counselor who will tell you all about applying to the UW. You can also meet with an undergraduate academic advisor who will help you prepare for your intended UW major. Bring your questions and your unofficial transcript(s). It's one-stop shopping for the prospective transfer student.
Where:
University of Washington
141 Mary Gates Hall
When:
Every Thursday afternoon.
Click here to view the scheduled activities
.
For more information:
(206) 543-2550 or click
here
.
CREDITS
Megan McConnell
Editor
Jennifer Stock
Web Producer
Contributors:
Raven Avery Alexander
Dowell Eugenio
Deanna Fryhle
Mary Larson
Megan McConnell
Alexis Nelson
Namura Nkeze
Michal Nolte
Molly Ormsby
Mona Pitre-Collins
Sara Stubbs
Mel Wensel
Carlos Williams
The Transfer eNewsletter is a project of UAA Advising.
So you've been admitted...now what?
By Namura Nkeze, Transfer and Commuter Student Programs Coordinator, First Year Programs
The University of Washington is HUGE and to make it easier for you to navigate your first quarter, First Year Programs (FYP) offers Advising and Orientation (A&O). This is a mandatory program for all new students that assist you in getting started on the right foot.
Transfer A&O happens mid-July thru the end of August. It is a day-long program that gets you connected to your new institution. You will have the opportunity to meet with an academic adviser, obtain your Husky ID card, learn how to navigate the registration system, connect to other new transfer students as well as take part in a variety of other sessions geared to assist you in making this transition.
Once you have paid your New Student Enrollment and Orientation Fee (NSEOF) you will be able to register for an Advising and Orientation session. Every effort will be made to place you with an adviser from your major of choice on the day you select. If you indicated an interest in Biology, English, History or Psychology as a major you will be invited to a special department designed orientation in early September. Read more about these orientation sessions in this newsletter.
We are excited to meet you during A&O! Congratulations on choosing the UW to continue your educational career! For more information on A&O please visit http://www.fyp.washington.edu.