Spring 2012 | Issue No. 22
TRANSFER THURSDAYS
Thinking about transferring to the UW? If you are,
Transfer Thursday is your gateway to transfer information
. At a Transfer Thursday session, you can speak to an admissions counselor who will tell you all about applying to the UW. You can also meet with an undergraduate academic advisor who will help you prepare for your intended UW major. Bring your questions and your unofficial transcript(s). It's one-stop shopping for the prospective transfer student.
Where:
University of Washington
141 Mary Gates Hall
When:
Every Thursday afternoon.
Click here to view the scheduled activities
.
For more information:
(206) 543-2550 or click
here
.
Studying Abroad: The World is Your Oyster
By Sara Stubbs, Global Opportunities Adviser, UW Center for Experiential Learning
Many transfer students wonder about study abroad. Transfers often wonder whether they can study abroad and still graduate on time, or whether they can afford a study abroad program. Here at the UW, several programs and advisers are here to help with planning a study abroad program and connecting with financial aid and scholarship opportunities to make studying abroad more affordable.
UW Study Abroad (a.k.a. IPE) advisers can help transfers explore the over available 400 program options and navigate the program application process. Visit the UW Study Abroad website for more information on programs and advising. You can also find them at http://www.facebook.com/UWStudyAbroad.
Global Opportunities is a UW program working to increase access to study abroad through programming, advising, and providing financial assistance through the GO! and Fritz Scholarships. These scholarships are just for UW students to support their studies abroad. Visit the Global Opportunities website to learn more about these scholarships, and follow them on http://www.facebook.com/UWGlobalOpportunities to learn about programs and events.
Another great way to learn about study abroad is to talk with students who have done it! Lyssa Davis and Helen Olsen are transfer students who studied abroad with the support of GO! and Fritz Scholarships. Here's what they have to say about their experiences: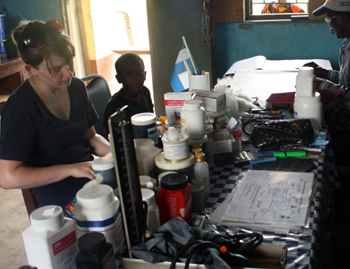 Helen Olsen working in a clinic in Sierra Leone.
Helen Olsen transferred to the UW after spending her freshman year at Colorado College. She quickly realized that summer studies abroad would be a good option for her—she studied abroad in Sierra Leone last summer and is headed to India this summer. She was able to make a plan with her academic adviser so that her study abroad credits could apply to her major, and her study abroad Program Directors were really helpful in connecting her to campus resources for funding study abroad.
It was through her Sierra Leone Program Director that she learned about the Fritz Scholarship. Helen had written an unsuccessful scholarship application before, so this time she took a different approach. "I did my research on the type of candidate the Fritz Scholarship looks for...and I asked my Program Director to give me feedback on my personal statement," she says, "My Program Director helped me to personalize the essay." Helen admits that asking for feedback was scary, but it paid off! "Going through the scholarship process really validated my academic and personal goals," Helen says,
"[applying for and receiving the Fritz] was a turning point for me."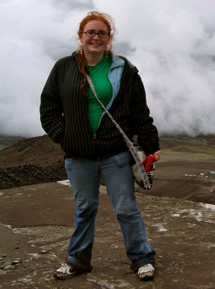 Lyssa Davis poses near Cotopaxi volcano in Ecuador.
Lyssa Davis transferred from Olympic College. Right after registering for her first quarter at the UW, she got an email from her Spanish professor letting her know about the opportunity to study abroad in Ecuador. She says, "As a transfer student I was actually a little bit behind with my Spanish classes, not being able to take any Spanish classes for my entire year of community college before I transferred. I was looking for shortcuts. [By studying abroad], I was about to take two sequential classes over the course of one quarter. It just made sense."
However, Lyssa came away from her study abroad with much more than just credits toward her Spanish major. She says, "There are so many new experiences and things you would never imagine yourself doing in a million years. I did things like climb volcanoes, swim in waterfalls, hike through the Amazon, jump off a bridge, travel to the beach, bathe in hot springs, visit ancient ruins, and see colonial churches and museums. I also improved my Spanish ten-fold and am still two months later thinking in Spanish a lot of the time. The experience has also improved my applications to jobs and internships, and I may soon be working at a Spanish language theater, putting my other drama major to work as well."
Helen's tips:
The IPE blog is awesome! It helps you get a feel for different types of programs in a variety of regions. Also, if you're going on a UW program, check out the departmental website to get a sense of the program and program leaders' perspectives.
Try to learn the language of the place you'll be studying—even just basic knowledge! Practice the language while you're there, and don't be afraid to laugh at yourself and make mistakes.
Lyssa's tips:
Ask questions! I asked my program leader (who was also my Spanish professor) a lot of questions about procedures, what to expect, how to get paperwork done, who to send it to and how to act once abroad. I also worked with the study abroad and financial aid offices. I heard about the GO! Scholarship from the financial aid office. I'm pretty sure I exhausted all the resources the university offers.
Bring a camera! You are going to want to remember all of your experiences.