Spring 2012 | Issue No. 22
UW VIRTUAL TOUR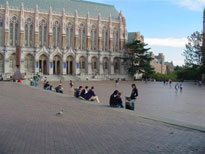 TRANSFER THURSDAYS
Thinking about transferring to the UW? If you are,
Transfer Thursday is your gateway to transfer information
. At a Transfer Thursday session, you can speak to an admissions counselor who will tell you all about applying to the UW. You can also meet with an undergraduate academic advisor who will help you prepare for your intended UW major. Bring your questions and your unofficial transcript(s). It's one-stop shopping for the prospective transfer student.
Where:
University of Washington
141 Mary Gates Hall
When:
Every Thursday afternoon.
Click here to view the scheduled activities
.
For more information:
(206) 543-2550 or click
here
.
CREDITS
Megan McConnell
Editor
Jennifer Stock
Web Producer
Contributors:
Raven Avery Alexander
Dowell Eugenio
Deanna Fryhle
Mary Larson
Megan McConnell
Alexis Nelson
Namura Nkeze
Michal Nolte
Molly Ormsby
Mona Pitre-Collins
Sara Stubbs
Mel Wensel
Carlos Williams
The Transfer eNewsletter is a project of UAA Advising.
Scholarship Update
New 2012 Martin Achievement Scholars

Anna Maria Johnson, Seattle Central Community College. Expected major is General Biology: Molecular, Cellular and Developmental Biology. Anna currently works for the Biology Department at SCCC. Her long term goal is a career in medical research.

Elizabeth A. Reid, Green River Community College. Expected major is English. Elizabeth is currently a volunteer worker for the Post Prison Education Program. She is a member of the People with Convictions, Post Prison Community Collaboration Project at the UW. Elizabeth is soon to be published in the Harvard Educational Review in the upcoming book regarding the school-to-prison pipeline.

Miriam Williamson, Seattle Central Community College. Expected to double major in Biochemistry and Neurobiology. Miriam is currently an undergraduate researcher at SCCC working on identifying genetic mutations in the model organism Arabidopsis Thaliana. In the 2012 summer, she will be a research intern in Building Bridges to Bioengineering at the UW.
Deadline for the Martin Family Honors Scholarship is Friday, July 6, 2012
The Martin Family Foundation Honors Scholarship enables community college students of exceptional ability and outstanding achievement to complete their baccalaureate degrees at the University of Washington, Seattle Campus. Martin Scholars are encouraged to join the Honors Departmental Program at the UW and, depending on their choice of major, are eligible to graduate with Departmental or College Honors.
Eligible students for the Martin Honors Scholarship will transfer to the UW-Seattle summer or fall quarters 2012. If you are a transfer student currently enrolled at the UW, you may not have earned more than 18 UW credits by the application deadline of Friday, July 6, 2012. Martin Honors Scholars receive up to $10,000 per year, renewable each year for up to three years, subject to continuing high scholarship at the UW. Applications will be available June 1. For application information link to: www.washington.edu/students/ugrad/scholar/scholarships/s/martinfamily.