Spring 2012 | Issue No. 22
TRANSFER THURSDAYS
Thinking about transferring to the UW? If you are,
Transfer Thursday is your gateway to transfer information
. At a Transfer Thursday session, you can speak to an admissions counselor who will tell you all about applying to the UW. You can also meet with an undergraduate academic advisor who will help you prepare for your intended UW major. Bring your questions and your unofficial transcript(s). It's one-stop shopping for the prospective transfer student.
Where:
University of Washington
141 Mary Gates Hall
When:
Every Thursday afternoon.
Click here to view the scheduled activities
.
For more information:
(206) 543-2550 or click
here
.
The College of Engineering PEERs Program: An Interview with Transfer Student Annie Gillan
By Alexis Nelson, Program Operations Specialist, ADVANCE Center for Institutional Change
Annie Gillan, a senior studying Industrial and Systems Engineering, transferred to the University of Washington from Bellevue Community College after two years as a Running Start student. From her first days on the UW campus, Annie knew that she wanted to pursue engineering, especially after having taken some preliminary engineering courses at Bellevue Community College. With her goals clearly in mind, she jumped into her coursework and the engineering community with both feet, connecting with fellow classmates and participating in a host of engineering activities and clubs.
As part of her involvement, Annie learned about a one-credit course entitled PEERs, or "Promoting Equity through Engineering Relationships," a program designed to increase the participation of underrepresented students in UW's College of Engineering by improving the climate for women, minorities, and people with disabilities. Prior to the course, Annie acknowledges that she had lacked opportunities to reflect on or discuss issues of diversity and inclusion, particularly in the context of engineering, and found the course to engage surprisingly personal topics from the very first day. For example, as a female engineering student, she was surprised to learn that women comprised only 18% of engineering undergraduate enrollments in 2008. She had certainly encountered negative comments and stereotypes about women through her education, but had not necessarily identified or understood some of the systemic causes underlying her experiences. Nor did she know how to address them constructively. For her, the information and support from the course felt both validating and encouraging—not only were other women experiencing similar circumstances around the country and world, but she was also surrounded by successful women professors and classmates who were challenging such stereotypes and following their dreams.
After the course ended, Annie's professors invited her to join the PEERs Leaders team, a group of program interns that disseminate information about diversity and inclusion from the PEERs course on a larger scale across UW and Seattle. As a PEERs Leader, Annie collaborated with her team to share her knowledge with others and address local and systemic causes of racism, sexism, homophobia, and other stereotypes. Nearly three years after the course, Annie is proud to note that the messages from the PEERs program have extended far beyond her classroom into high schools, community colleges, conferences, faculty meetings, and other UW courses.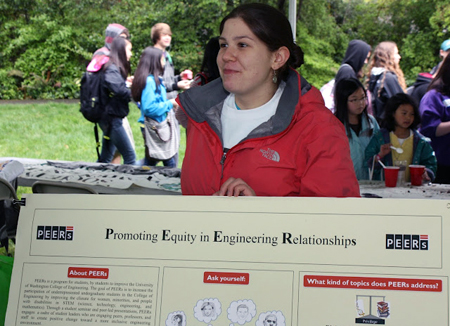 Annie Gillan at Engineering Discovery Days this spring.
Looking back on her transfer experience, Annie mentions the importance of the PEERs program on her overall sense of belonging at UW. Not only did the program help her build connections with supportive organizations such as Women in Science and Engineering (WiSE) and Seattle MESA, it affirmed that she is an integral member of the engineering community. Annie's recommendation to others transfer students? Reach out to interesting and supportive groups as soon as you arrive on campus; be bold and proactive in building relationships and community. Annie will seek to do the same as she graduates from UW and ventures into new communities this summer.
To learn more about the PEERs program, please visit the program website or the Facebook page.