Spring 2012 | Issue No. 22
UW VIRTUAL TOUR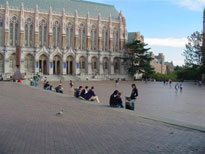 TRANSFER THURSDAYS
Thinking about transferring to the UW? If you are,
Transfer Thursday is your gateway to transfer information
. At a Transfer Thursday session, you can speak to an admissions counselor who will tell you all about applying to the UW. You can also meet with an undergraduate academic advisor who will help you prepare for your intended UW major. Bring your questions and your unofficial transcript(s). It's one-stop shopping for the prospective transfer student.
Where:
University of Washington
141 Mary Gates Hall
When:
Every Thursday afternoon.
Click here to view the scheduled activities
.
For more information:
(206) 543-2550 or click
here
.
CREDITS
Megan McConnell
Editor
Jennifer Stock
Web Producer
Contributors:
Raven Avery Alexander
Dowell Eugenio
Deanna Fryhle
Mary Larson
Megan McConnell
Alexis Nelson
Namura Nkeze
Michal Nolte
Molly Ormsby
Mona Pitre-Collins
Sara Stubbs
Mel Wensel
Carlos Williams
The Transfer eNewsletter is a project of UAA Advising.
New Facilities at UW Bothell!
By Molly Ormsby, Adviser, UW Bothell
Science and Academic Building
A few weeks ago UW Bothell was approved to break ground on a science and academic building. The 74,000-square-foot building will house 11 science labs, several classrooms, gathering space, and a 200-person lecture hall. This space translates into the ability to serve an additional 1,000 students each year. It is the first building to be constructed on the UW Bothell campus in 10 years.
Sports Field and Recreation Complex
UW Bothell will soon have a multi-purpose synthetic turf sports field, tennis courts, basketball court and volleyball court for students to enjoy.
Student Housing
For the past three years the student housing has been growing. This year we currently have over 220 students living in Husky Village. Construction on the community center is completed and now students have a great space for shared activities. For 2012-2013 we will be adding 30 more beds and hope to expand the options for housing even more in the next few years.
Sarah Simonds Green Conservatory
This facility includes 1,500 square feet of greenhouse and 1,200 square feet of education and exhibit space for historical displays and interpretive materials. The conservatory will be open to the public and also be used for academic research and teaching.
The SPOT
The SPOT (Students in Partnership for Organized Transformation) is a student-driven center that values collaboration amongst students, faculty, staff, and the community outside of the traditional campus boundaries. Some of the major issues students at SPOT are examining include identifying strategies to effectively retain under-represented students, especially those considered to be most at-risk of dropping or stopping out and providing a space for all students to collaborate on the development of cross-cultural initiatives, programs, and resources.
Click here for more information on the growth at UW Bothell.