Spring 2012 | Issue No. 22
UW VIRTUAL TOUR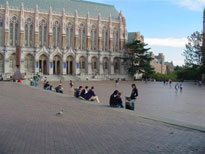 TRANSFER THURSDAYS
Thinking about transferring to the UW? If you are,
Transfer Thursday is your gateway to transfer information
. At a Transfer Thursday session, you can speak to an admissions counselor who will tell you all about applying to the UW. You can also meet with an undergraduate academic advisor who will help you prepare for your intended UW major. Bring your questions and your unofficial transcript(s). It's one-stop shopping for the prospective transfer student.
Where:
University of Washington
141 Mary Gates Hall
When:
Every Thursday afternoon.
Click here to view the scheduled activities
.
For more information:
(206) 543-2550 or click
here
.
CREDITS
Megan McConnell
Editor
Jennifer Stock
Web Producer
Contributors:
Raven Avery Alexander
Dowell Eugenio
Deanna Fryhle
Mary Larson
Megan McConnell
Alexis Nelson
Namura Nkeze
Michal Nolte
Molly Ormsby
Mona Pitre-Collins
Sara Stubbs
Mel Wensel
Carlos Williams
The Transfer eNewsletter is a project of UAA Advising.
Exploring Law School information session now online!
By Megan McConnell, Academic Counselor, UAA Advising
The Pre-Law Advising Team at the University of Washington has recently developed an online version of its popular "Exploring Law School" information session. The information session covers common questions students thinking about applying to law school might have—what major they should choose, how long law school lasts and how much it costs, as well as short- and long-term strategies for making sure you're preparing for legal education. Prospective transfer students interested in perhaps attending law school someday are welcome to view the online workshop.
The Pre-Law Advising Team still conducts in-person versions of Law School Applications 101 and the Law School Personal Statement workshops, which are open only to UW students.
For more information about preparing for law school and being a pre-law student at the University of Washington, please visit the UW Pre-Law Advising website.