Samuel E. Kelly Ethnic Cultural Center
Thank you to all that attended the Diversity Leadership Conference 2020. 
All the pictures taken during the conference are available here: Google Photos Album. 
Additionally, the website has been updated with contact information should you wish to reach out to a presenter. 
---
The Diversity Leadership Conference (DLC) is a half-day conference designed for UW students to develop their leadership skills through a series of workshops and sessions with peer leaders. The conference is co-hosted by the Kelly Ethnic Cultural Center, the Career & Internships Center, and Housing and Food Services and is open to all UW students.
---
Diversity Leadership Conference 2020: 
The Personal is Political: Showing Up for Ourselves and Others in Solidarity
"Certainly there are very real differences between us…But it is not those differences between us that are separating us. It is rather our refusal to recognize those differences…"- Audre Lorde
The theme of DLC 2020 is The Personal is Political: Showing Up for Ourselves & Others in Solidarity. The theme is meant to reflect and pay homage to the intersectional work of womxn of color feminists. Additionally, with the U.S. Presidential Elections happening in the year 2020, we hope participants can engage in conversations of activism/advocacy for themselves and marginalized/targeted communities. 
Friday, February 21, 2020
3:00 – 7:00 p.m. // Kelly Ethnic Cultural Center (Opening Keynote in Alder Auditorium)
Schedule of Events:
Schedule of events:
2:30 – 3:00 p.m. Check-in & Lunch (Alder Auditorium)
3:00 – 3:15 p.m. Welcome & Introduction to DLC 2020 (Alder Auditorium)
3:30 – 4:00 p.m. Keynote Presentation (Alder Auditorium)
4:00 – 6:00 p.m. Leadership Workshop Sessions (Kelly Ethnic Cultural Center):
4:15 p.m. – 5:00 p.m.Workshop Session 1

5:15 p.m. – 6:00 p.m. Workshop Session 2
6:00 – 7:00 p.m. Resource Fair and Raffle (Kelly Ethnic Cultural Center)
Diversity Leadership Conference Breakout Sessions & Workshops
DLC workshops will attempt to answer or engage with the following questions: How do we engage in community/coalition building? How do we build communities of success? How do we bring other people to our table? How do we engage/recognize our privilege? What do you do when you feel like you don't "fit in" to your community?
Workshop 1
Identity and Activism presented by Daniella Calasanz-Mino / David Frantz / Maekara Keopanapay / Kelty Pierce / Kiran Singh

For additional questions or support please contact http://vote.asuw.org/contact-us/
What does courage mean to you? What issues of advocacy are important to you? To be an advocate for yourself and for others requires courage and vulnerability, but sometimes these can be hard to find without any idea of where to start. This workshop will be centered around intentionally developing our identities in a way that empowers the activist within all of us, and will spur reflection on why we choose to be engaged and involved. Lead by student leaders from ASUW, our discussions will enhance your leadership potential and encourage you to be a more thoughtful and articulate leader.
Workshop 2
Storytelling in Social Justice presented by Kim Anh Tran and Saleena Salango
For additional questions or support please contact Kim at kim212@uw.edu or Saleena at ssalango@uw.edu
Join us for a workshop that emphasizes the radical value of subjective knowledge and demonstrates how objective knowledge alone is inadequate to create equitable programs; telling one's own stories is instrumental in driving advocacy and scholarship. This workshop will help participants draw from their personal stories, touch on different avenues of self-expression and explore how they can be applied to social justice practice. In addition, we aim to demonstrate how storytelling can strengthen coalitions and deconstruct intergroup biases by re-centering narratives and reclaiming histories. 
Workshop 3
In this workshop, we will explore what it means to be an ally to marginalized communities while improving the way we support people within those communities. The goal of the workshop is to understand the key actions of being a good ally without overstepping boundaries. Various activities will prompt us to reflect on our identities, our comfort zones, and how to communicate the type of support we need during difficult times.
Workshop 4:
UndocuPeer Ally presented by Yarin Garcia
For additional questions or support please contact ygc@uw.edu 
This workshop will ask participants to think about the experiences of undocumented individuals, immigration policies, and showing up as an ally to undocu-peers. Some of the questions posed for this workshop include: What do undocumented individuals face in their daily lives? How can current (and future) immigration policies impact a student's ability to be successful? How can we work with and for undocumented peers? Lastly, what are the resources that we have around us to be able to help undocumented peers?
---
DLC Keynote Speaker:
Meshell Sturgis!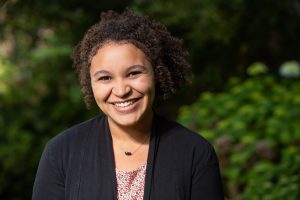 Meshell is a Ph.D. Candidate in the Department of Communication and a Research Assistant for the Center for Communication, Difference, and Equity.  She received her B.A. in English, with a Creative Writing minor from the University of North Carolina at Chapel Hill, and an M.A. in Cultural Studies from the University of Washington, Bothell.
Her research looks at representations of difference and identity in the media using Black feminist critical-cultural communication theories and methods. As an interdisciplinary scholar, her work draws on the fields of Black Studies and Critical Mixed Race Studies, Gender and Sexuality Studies, American Studies, and Comic Studies. The title of her dissertation is "The Politics of Self-Representation: How Queer Black Mixed-Race Women use "Black Girl Magic" in Alternative Media" where she analyzes underground comics, self-produced YouTube videos, artist books, and art collectives.
Meshell is concurrently working towards three graduate certificates at the University of Washington in: Science, Technology, and Society Studies; Gender and Sexuality Studies; and Public Scholarship. She is a GO-MAP Presidential Dissertation Fellow and was previously a Public Scholarship Fellow with the Simpson Center for the Humanities.
Check out some photos from last year's Diversity Leadership Conference here!