Health Promotion Research Center
Project Dates: September 29, 2019 – September 30, 2024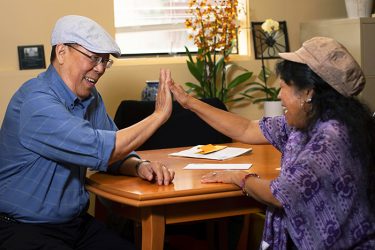 PEARLS Equity will focus on expanding depression care for older adults in underserved communities by partnering with organizations that are already serving and doing work with these communities. The ultimate goal is to help provide equitable access to depression care. With equity as a key part of our goal, we will be collaborating with organization that serve older adults who are experiencing poverty, are community members of color, have limited-English proficiency, and/or live in rural areas.
Study Surveys
Over several years, we are asking organizations in Washington state and California to participate in a series of surveys. We are focusing on organizations that fund or provide mental health services and/or services to older adults. The surveys will take about one hour a year to complete (two 30-minute surveys).
Responses from these organizations are essential to helping us understand who is providing services for mental health care and/or older adults, what barriers these organizations face, and where gaps exist across California and Washington.
This information will allow us to test strategies around providing more equitable access to depression care for older adults.
Resources & PEARLS
UW Health Promotion Research Center will be providing those same organizations resources and support (if they are interested) that could help them better serve their communities.
We will also discuss the Program to Encourage Active Rewarding Lives (PEARLS) with them as a possible resource and option for their organization.
While we hope PEARLS will work for many of these organizations, they are not required to adopt the program in order to participate in the study surveys. In fact, we hope organizations that chose not to adopt PEARLS will be willing and able to take the surveys.
Our Partnerships
Here is what a few of our partners have to say about our collaboration efforts.
"The UW Health Promotion Research Center partnership provides accessible, non-judgmental support and expertise. They engage and brainstorm with us on ways to reduce barriers to offerings in our rural communities."

– Susan, Rogue Valley Council of Governments Senior & Disability Services, Central Point, Oregon
"With the UW Health Promotion Research Center, we feel more confident. They enable us and empower us to continue our linkages with older folks and our veterans."

– Sluggo (pictured above), Filipino Senior & Family Services, Seattle, Washington
"I see the UW Health Promotion Research Center as our personal cheerleaders. They celebrate our accomplishments with us and help us troubleshoot when we are struggling."

– Amelia, El Sol Neighborhood Educational Center, San Bernardino, California
Contact Us
Questions about the project? Contact us at equity-study@uw.edu.