Health Promotion Research Center
Activating Healthier Workplace Cultures and Environments

An evidence-based workplace wellness program that provides support for small and midsize employers in their efforts to create healthier workplaces.
Employed adults often spend the majority of their waking hours at work for several days each week. Their work environments have a significant impact on their health and well-being. Although small and midsize employers care just as much about their employees as large employers, they do not always have the resources and budget for workplace wellness programs. In addition, employees who receive lower wages are at greater risk for behaviors that can lead to chronic disease than those with higher incomes.
Program Overview
Our vision is that all working adults have access to healthy workplace environments and support for healthy behavior. To make that vision a reality, the University of Washington Health Promotion Research Center (UW HPRC) created a wellness program that meets the needs of small employers and supports employees who may benefit most.
UW HPRC provides Connect to Wellness at no cost to local health departments and partnering employers. The program focuses on healthy foods and beverages, physical activity, tobacco cessation, and cancer screening, while providing employers a menu of options to address these behaviors through best practices, such as policies, health communications, and activities for employees. These options are at low or no cost for employers and employees, helping create an affordable, sustainable, and evidence-based workplace wellness program for those who might not otherwise have access to one.
"This program really works. It's one-stop shopping for everything a worksite needs to hit the health behaviors most relevant to improving employee well-being."

– Kitsap Public Health District staff member
Connect to Wellness was designed for employers who have 250 or fewer employees, although it has been used successfully by organizations that employ about 1,000 people.
UW HPRC researchers are currently working with a select group of local health departments to further study and implement Connect to Wellness across the U.S. The UW HPRC will assist health department staff through live, online trainings to guide their efforts in partnering with local employers who are interested in using Connect to Wellness. UW HPRC will also provide various toolkits of activities and best practices for local health departments to share with employers, allowing them to meet the specific needs and interests of their employees.
Together, we can activate healthy workplace cultures and environments.
Connect to Wellness Reach
National
43,372 employees
233 companies
15 states
Washington State
38,425 employees
210 companies
11 counties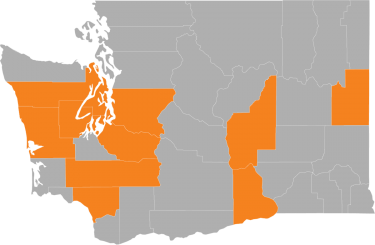 Building & Expanding the Evidence Base
The UW Health Promotion Research Center (UW HPRC) and the American Cancer Society co-developed the previous version of Connect to Wellness. UW HPRC has continued expanding the evidence base for the program over the years.
2009 Pilot Project
UW HPRC conducted a pilot test of the program with 23 worksites in Mason County, Washington. Participating employers showed significant increases in evidence-based best practices for physical activity, health behavior policies, and health information communications. The Washington State Department of Health funded the study.
2012 King County Expansion
UW HPRC conducted a broader test of the program among 48 South King County-based employers in Washington state through the Communities Putting Prevention to Work program with the U.S. Centers for Disease Control and Prevention (CDC). Results were similar to those achieved during the pilot.
2013 Dissemination & Adoption
UW HPRC started testing ways to spread and increase use of Connect to Wellness.
2014-2017 King County Randomized Trial
UW HPRC conducted a randomized trial with 78 worksites in King County, Washington, with support from a National Cancer Institute grant. Employers who participated in Connect to Wellness implemented more than twice as many best practices than employers in a control group who did not receive Connect to Wellness until the end of the study.
2014-2017 Washington State Expansion
UW HPRC trained local health department staff in seven counties across Washington state to deliver the workplace wellness program to employers in their communities. UW HPRC also trained staff at the Tri-Cities Cancer Center in Kennewick, Washington, to deliver the program to local employers. Results show significant improvement in employers' adoption of evidence-based best practices. The Washington State Department of Health funded both of these projects.
Contact Us
If you have questions about the program, please feel free to email us (ctwell@uw.edu). We are currently collaborating with local health departments to promote healthier workplace cultures and environments among smaller worksites across the U.S. Learn more about this project.
Connect to Wellness Toolkits
These toolkits are available to only current project participants.
You will need a password, provided by us or our partnering local health departments.