June 14, 2021
Students Honored in Husky 100 during 2021
Two students — Najma Abdi and Evalynn Fae Taganna Romano — who have supported the work and efforts of the University of Washington Health Promotion Research Center (UW HPRC) were named as part of the university's Husky 100 this year.
Each year, UW recognizes 100 undergraduate and graduate students who are making the most of their time at the university. Husky 100 students actively connect what happens inside and outside the classroom and apply what they learn to make a difference on campus, in their communities, and for the future.
Najma Abdi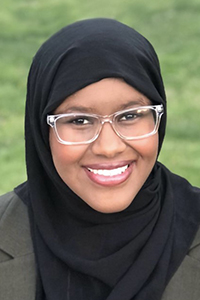 Abdi has played a significant role in a project at the Northwest Center for Public Health Practice to support bridging health information across cultures and languages, which is led by Hendrika Meischke. The project has been incorporated into the UW Health Promotion Research Center's project to help increase COVID vaccination rates in King County, Washington by expanding reach and access to information about available vaccines.
Abdi is earning her bachelor's degree in public health with an emphasis in global health through the UW School of Public Health's Public Health-Global Health major. With her degree, she hopes to focus on improving community health with refugee and immigrant communities in South King County, Washington.
Abdi is a Somali refugee herself, who resettled in Boise, Idaho, with her family when she was 5 years old. When she was 9, her family moved to Seattle where she eventually became an information bridge for her local community. During her time as an undergraduate, she has taken part in the Somali Health Board's efforts to increase access to safe and nutritious food and supported their Population Health Initiative project regarding COVID-19 testing barriers.
"Through mentorship and guidance from UW faculty, I was given the opportunity to do public health research to further understand how to advocate for Somali refugees in Washington state through an anti-racist and equity-driven lens, instilling my own passion for creating and promoting healthy communities," Abdi said. "My UW experience also taught me to push beyond the boundaries I've created for myself and to always find a community in the different spaces that I am in."
Evalynn Fae Taganna Romano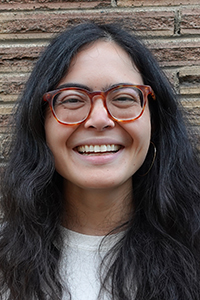 At the UW Health Promotion Research Center, Romano supports the Participatory Active Transportation for Health in South Seattle (PATHSS) project led by Barbara Baquero and Katherine Hoerster. The project focuses on understanding and addressing mobility challenges and opportunities in Beacon Hill, a South Seattle neighborhood that has historically been home for working-class community members of color.
As a student, Romano is earning her master's in public health in the UW Department of Global Health within the School of Public Health. She is also earning her master's in social work with the UW School of Social Work. While earning her degrees, she has become a three-year recipient of the UW Southeast Asia Center's Foreign Language and Area Studies Fellowship. With these degrees and honors, she plans to continue supporting her communities.
"I am a proud daughter of two University of Washington custodians and a first-generation graduate student," Romano said. "I honor my ancestors from the Philippines and Turkey through storytelling in the Waray-Waray language, community organizing for custodial workers' rights, and providing therapy to Asian, South Asian, and Pacific Islander survivors of violence. I am committed to serving communities as a community-based researcher, therapist, and advocate."
During the pandemic, she led appreciation efforts for UW custodial workers by bringing them breakfast, masks, and thank you notes, as well as advocated for custodians to have more equitable access to COVID vaccines during the early vaccination efforts in Washington state. She also worked on a project to support the health of local Filipino seniors during COVID in collaboration with the International Drop-In Center (IDIC).
More About the Husky 100
In honor of the Husky 100 students' contributions to the University of Washington, each member is eligible to receive benefits and participate in a range of activities and opportunities offered by on- and off-campus partners. Members of the Husky 100 will:
Receive individual profiles on the Husky 100 website to highlight their student experiences, communities, and priorities.
Receive one year of free membership with the UW Alumni Association upon graduation.
Have exclusive opportunities to expand their personal and professional networks with UW students, alumni, faculty, staff, and business leaders in their field.
Tags:
Evalynn Fae Taganna Romano
,
Husky 100
,
Najma Abdi