Autumn 2012 | Issue No. 23
UW VIRTUAL TOUR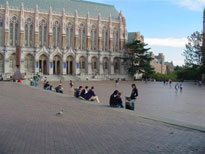 TRANSFER THURSDAYS
Thinking about transferring to the UW? If you are,
Transfer Thursday is your gateway to transfer information
. At a Transfer Thursday session, you can speak to an admissions counselor who will tell you all about applying to the UW. You can also meet with an undergraduate academic advisor who will help you prepare for your intended UW major. Bring your questions and your unofficial transcript(s). It's one-stop shopping for the prospective transfer student.
Where:
University of Washington
141 Mary Gates Hall
When:
Every Thursday afternoon.
Click here to view the scheduled activities
.
For more information:
(206) 543-2550 or click
here
.
CREDITS
Megan McConnell
Editor
Jennifer Stock
Technical Designer
Contributors:
Tory Brundage
Heather Clineschmidt
Vikki Haag Day
Megan McConnell
Risa Morgan-Lewellyn
Michal Nolte
Molly Ormsby
Mona Pitre-Collins
Trina Sterry
Debbie Wiegand
Carlos Williams
The Transfer eNewsletter is a project of UAA Advising.
Admissions Update
By Carlos Williams, Assistant Director, Undergraduate Admissions
For autumn 2012, the Seattle campus offered admission to 59.9% of all Washington community college applicants. This compares to offer rates of 59.1% for high school applicants and only 24.2% for applicants from four-year universities. In addition, the offer rate for Washington community college students with 90 or more transferrable credits was 66.5%.
I am often asked by prospective students, "When is the best time to apply to the UW?" In general, the best time to apply is when you are ready to enter your major. For most applicants, that's when they've completed an associate's degree and/or 90 transferrable quarter credits. To help you plan to transfer, there are Academic Planning Worksheets for all of our majors and an online course equivalency guide for each of the Washington community and technical colleges. For more information about these and other important transfer topics (for example, writing your personal essay), please visit the Admissions website for prospective transfer applicants.
You should also consider attending one of our Transfer Thursday information sessions. On Transfer Thursday, you will learn about the admissions application process from one of our staff members. Moreover, many of our academic departments participate in Transfer Thursday by offering information sessions or making academic advisors available for one-on-one advising. Consult the Transfer Thursday webpage for more details.
Trivia Anyone?
Top 20 majors requested by enrolled transfer students: Business, Biology, Psychology, Communication, Mechanical Engineering, Art, Biochemistry, Electrical Engineering, Nursing, Economics, Computer Science, Civil Engineering, Chemistry, English, Mathematics, Social Welfare, History, and International Studies