Autumn 2012 | Issue No. 23
UW VIRTUAL TOUR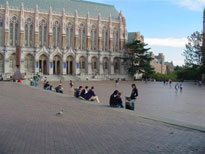 TRANSFER THURSDAYS
Thinking about transferring to the UW? If you are,
Transfer Thursday is your gateway to transfer information
. At a Transfer Thursday session, you can speak to an admissions counselor who will tell you all about applying to the UW. You can also meet with an undergraduate academic advisor who will help you prepare for your intended UW major. Bring your questions and your unofficial transcript(s). It's one-stop shopping for the prospective transfer student.
Where:
University of Washington
141 Mary Gates Hall
When:
Every Thursday afternoon.
Click here to view the scheduled activities
.
For more information:
(206) 543-2550 or click
here
.
CREDITS
Megan McConnell
Editor
Jennifer Stock
Technical Designer
Contributors:
Tory Brundage
Heather Clineschmidt
Vikki Haag Day
Megan McConnell
Risa Morgan-Lewellyn
Michal Nolte
Molly Ormsby
Mona Pitre-Collins
Trina Sterry
Debbie Wiegand
Carlos Williams
The Transfer eNewsletter is a project of UAA Advising.
New Business Option in Operations and Supply Chain Management at UW Seattle's Foster School of Business
By Vikki Haag Day, Assistant Dean, Undergraduate Programs, Foster School of Business
Beginning Autumn Quarter 2012, the Foster School of Business added an option to the ways a student might specialize a Bachelor of Arts in Business Administration. The Operations and Supply Chain Management (OSCM) option covers concepts related to the design, planning, control, and improvement of manufacturing and service operations. This option incorporates project management, service delivery systems, product development, business analytics, as well as inventory and supply chain management.
Why this option? Washington is home to several major companies who use the most innovative practices in operations and supply chain management. Amazon.com, Costco, PACCAR, Starbucks and Boeing create market demand for graduates in this field.
Admission to the Foster School is competitive. Please consult the website to assure all prerequisites and application requirements are met. While at the community college, students interested in the option in Operations and Supply Chain Management should work on prerequisites for the business school listed there. Once admitted to the Foster School, students may choose accounting, entrepreneurship, finance, human resources management, information systems, marketing, operations and supply chain management or general business as an option.