Autumn 2012 | Issue No. 23
UW VIRTUAL TOUR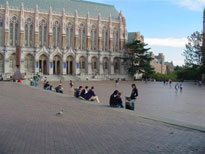 TRANSFER THURSDAYS
Thinking about transferring to the UW? If you are,
Transfer Thursday is your gateway to transfer information
. At a Transfer Thursday session, you can speak to an admissions counselor who will tell you all about applying to the UW. You can also meet with an undergraduate academic advisor who will help you prepare for your intended UW major. Bring your questions and your unofficial transcript(s). It's one-stop shopping for the prospective transfer student.
Where:
University of Washington
141 Mary Gates Hall
When:
Every Thursday afternoon.
Click here to view the scheduled activities
.
For more information:
(206) 543-2550 or click
here
.
CREDITS
Megan McConnell
Editor
Jennifer Stock
Technical Designer
Contributors:
Tory Brundage
Heather Clineschmidt
Vikki Haag Day
Megan McConnell
Risa Morgan-Lewellyn
Michal Nolte
Molly Ormsby
Mona Pitre-Collins
Trina Sterry
Debbie Wiegand
Carlos Williams
The Transfer eNewsletter is a project of UAA Advising.
Alan R. Spence Transfer Student Support Fund - $500 Award!
There is a new transfer student support fund at UW that recently transferred and soon-to-transfer students should know about!
Alan R. Spence, Ed.D., began his career in educational administration in 1970 at the Evergeeen State College as a Chief Accountant. At age 29 he became the youngest business officer in Washington state as the Vice President of Business and Finance at St. Martin's College. In 1981, he moved to Pierce College as the Associate Dean of Administrative Services where he was later promoted to the position of District Vice President of Administrative Services in 1987. He spent a total of 24 years at Pierce College. The final years of his distinguished career were spent at Seattle Community College District as the Chief Financial Officer. He retired in 2008.
Valuing the community college system as a place where students can begin their journey through higher education regardless of their circumstances and backgrounds, Alan Spence worked tirelessly to ensure that institutional barriers would not impede a student's ability to be successful.
The Alan R. Spence Transfer Support Fund was established to support transfer students and their educational pursuits at the University of Washington.
To be eligible to apply for the award for the 2012-2013 school year,
Applicants must be Washington State residents who are U.S. citizens or resident aliens and are currently attending or have attended a community college in the state of Washington.
Applicants must have earned a minimum of 36 credits at a Washington State community college by the time they matriculate at the University of Washington, Seattle campus. Students who hold an associate's degree are encouraged to apply.
Applicants must be UW Seattle matriculated students during the 2012-2013 academic year.
Applicants must demonstrate financial need as defined by the UW Office of Financial Aid. (Students in unusual financial situations may apply, but must explain these circumstances in the additional comments section.)
Applicants must already be matriculated at UW or have received their admission letter by the application deadline of February 15, 2013 at 5:00 p.m. Applicants who have not yet received word of their admission to the UW by the deadline, or who are planning a transfer for a subsequent year, should keep the Spence Transfer Student Support Fund in mind for the future!
Deadline: February 15th, 2013 - 5:00PM
How to apply: Complete the application online. Questions? Email hcline@uw.edu.