Autumn 2012 | Issue No. 23
UW VIRTUAL TOUR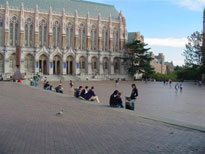 TRANSFER THURSDAYS
Thinking about transferring to the UW? If you are,
Transfer Thursday is your gateway to transfer information
. At a Transfer Thursday session, you can speak to an admissions counselor who will tell you all about applying to the UW. You can also meet with an undergraduate academic advisor who will help you prepare for your intended UW major. Bring your questions and your unofficial transcript(s). It's one-stop shopping for the prospective transfer student.
Where:
University of Washington
141 Mary Gates Hall
When:
Every Thursday afternoon.
Click here to view the scheduled activities
.
For more information:
(206) 543-2550 or click
here
.
CREDITS
Megan McConnell
Editor
Jennifer Stock
Technical Designer
Contributors:
Tory Brundage
Heather Clineschmidt
Vikki Haag Day
Megan McConnell
Risa Morgan-Lewellyn
Michal Nolte
Molly Ormsby
Mona Pitre-Collins
Trina Sterry
Debbie Wiegand
Carlos Williams
The Transfer eNewsletter is a project of UAA Advising.
For Advisers: 25th Annual Community College/University of Washington Advising Conference: Save the Date!
By Megan McConnell, Academic Counselor, UAA Advising
Advisers, please mark your calendars for Wednesday, April 17, 2013, for the annual Community College/University of Washington Advising Conference, this year to be held in the new Husky Union Building (HUB) on the UW Seattle campus. We'll spend the day discussing issues of relevance for advisers who work with transfer students, both at the community college and once they arrive on a UW campus. The planning committee, listed below, is working hard on a theme and proposed sessions for the day, and is open to suggestions or ideas you may have. Please feel free to contact any of us.
As usual, we'll have online registration available about a month before the event. Watch the uwcc@u.washington.edu email list for further announcements!