Autumn 2012 | Issue No. 23
The Public Health Major at UW Seattle
By Tory Brundage, Adviser & Student Outreach Coordinator, Public Health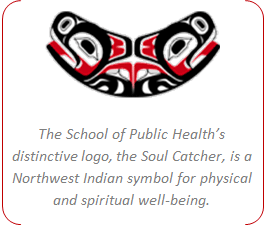 When you last heard from us in spring of 2011, we presented an overview of undergraduate programs in public health at UW Seattle briefly touching on the public health bachelor's degree. Since then, we have undergone a great deal of change. In winter 2012, the degree previously offered as an Individualized Studies Major within the College of Arts & Sciences with public health as one of a variety of options became a stand-alone Public Health Major housed in the School of Public Health (SPH). This transition has allowed for other important curricular and process changes for the major including the hiring of student services staff this past summer.
The Bachelor of Arts or Bachelor of Science in Public Health
For those with a passion to advocate for the wellbeing of others and promote conditions that enable people to lead healthy lives, a Public Health Major may be the right fit. It is a liberal arts degree that provides undergraduates with critical thinking skills and a foundation to address health problems faced by human populations. Students learn about the tools that public health professionals use to analyze and understand causes, risk factors and the spread of disease. Students work collaboratively in areas such as health education, emerging infectious diseases, access to health care, health care delivery systems, and the impact that personal behavior, society, genetics and the environment have on health outcomes.
The curriculum has foundational coursework that covers environmental health, epidemiology, global health, geography, nutrition, biostatistics and a unifying series on public health infrastructure and contemporary health issues in the United States. Additionally, students are exposed to both the social (anthropology, political science, psychology, sociology) and natural (biology, chemistry) sciences to understand the breadth of health issues and the interdisciplinary approach that's required to work towards systemic change as a means of addressing those issues.
The major is especially applicable for those who see themselves working with a government or non-profit public health agency; volunteering for the Peace Corps, Americorps, or Teach for America; going to graduate school; or preparing for a health profession. The Public Health Major is an initial step on a limitless path to a career in public health, as well as other health occupations, and is currently home to more than 200 active, involved students.
Admission to the Public Health Major
Students are eligible to apply to the Public Health Major once they have earned at least 45 credits with a minimum 2.5 grade point average. Prior to application, students must complete an introductory social science course from the following list: ENV H 111, HSERV 100, G H 101 or any 5-credit course from anthropology, political science, psychology and sociology. In addition to one social science course, students must complete an introductory science course equivalent to the following UW courses: BIOL 180, CHEM 120, CHEM 142, CHEM 145 or PHYS 114/PHYS 117. While some of these courses are not taught in the state's community colleges, many of them are, and any transferable equivalent from Washington community colleges satisfies these admission expectations. There is a transfer equivalency guide for Washington state community colleges online.
The program does have competitive admission which requires an application beyond the one necessary for admission to the University of Washington Seattle. For major admission, students are selected based on their overall academic record, grades in relevant coursework, a personal statement, and the ability to make satisfactory progress towards the degree. In general, the major can be completed in four to five quarters but early planning is recommended. Applicants may apply by the 3rd Friday of UW's autumn quarter to enter the major in winter quarter or by the 3rd Friday of UW's spring quarter to enter the major the following autumn. Transfer students with the appropriate coursework completed can apply to the University and to the major for the same entry quarter.
Advising, Community & Support
Students in the major benefit from the support of two academic advisers and public health core faculty who are tasked with serving students in the major and integrating more experiential, hands-on learning opportunities into the program. Also coming in the spring of 2013 will be a new student center, providing a home for students to lounge, connect with staff, and built community with their peers.
Students interested in the major should make use of the Public Health Major Information Sessions held on campus at least once a month, typically on Thursdays following the Transfer Thursday sessions hosted by UW Admissions. Be on the lookout in 2013 for open advising on afternoons that follow the information sessions.
For more information about the Public Health Major, visit the website. To connect with an adviser with specific questions, e-mail phmajor@uw.edu.
More Options
In addition to the Public Health Major, keep in mind the other programs for undergraduate study in the School of Public Health which all have more course options for students: