Autumn 2012 | Issue No. 23
UW VIRTUAL TOUR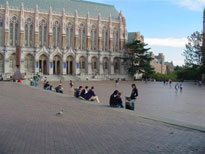 TRANSFER THURSDAYS
Thinking about transferring to the UW? If you are,
Transfer Thursday is your gateway to transfer information
. At a Transfer Thursday session, you can speak to an admissions counselor who will tell you all about applying to the UW. You can also meet with an undergraduate academic advisor who will help you prepare for your intended UW major. Bring your questions and your unofficial transcript(s). It's one-stop shopping for the prospective transfer student.
Where:
University of Washington
141 Mary Gates Hall
When:
Every Thursday afternoon.
Click here to view the scheduled activities
.
For more information:
(206) 543-2550 or click
here
.
CREDITS
Megan McConnell
Editor
Jennifer Stock
Technical Designer
Contributors:
Tory Brundage
Heather Clineschmidt
Vikki Haag Day
Megan McConnell
Risa Morgan-Lewellyn
Michal Nolte
Molly Ormsby
Mona Pitre-Collins
Trina Sterry
Debbie Wiegand
Carlos Williams
The Transfer eNewsletter is a project of UAA Advising.
Environmental Health Research Experience Program at the University of Washington
By Trina Sterry, Undergraduate Program Manager & Adviser, Environmental Health Sciences
There is a present and growing need to increase the number and diversity of researchers and research leaders entering the fields of Environmental Health Sciences. The University of Washington (UW) Environmental Health Research Experience Program (EHREP) aims to increase and diversify the pool of future applicants for graduate study in this field, leading to more outstanding scientists selecting Environmental Health Sciences as a career focus.
This program targets outstanding students from disadvantaged or under-represented groups and offers them a $5,200 stipend to complete a substantial research project.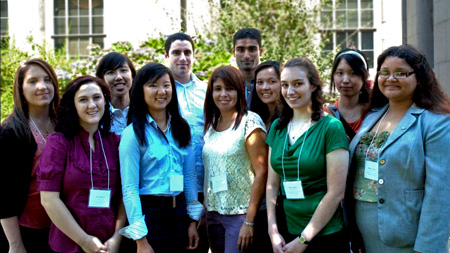 2012 Environmental Health summer program students. Back, left to right: Alexandra Kossik (University of Washington), Chi-Hsuan Chang (National Taiwan University), Hamza Rabi (University of Washington), Siddarta Jairam (University of California: Santa Barbara). Front, left to right: Josi Herron (University of Great Falls), Madelyn Huang (University of Notre Dame), Sheila Cubero (Universidad del Este), Andrea d'Aquino (Western Washington University), Mitra Geier Western Washington University), Ming-Fong Yang (National Taiwan University), Lilian Turcios (Texas Southern University) Photo credit: Elizabeth Sharpe
Students work with researchers who are investigating environmental and occupational health issues. This is a full list of all the research projects completed in this and previous years.
Community college students who are transferring to any baccalaureate institution by autumn 2013 are eligible to apply. The program is a great fit for students studying across the sciences who have maintained at least a 3.0 grade point average. Students must be US Citizens or US Permanent Residents to participate and the deadline is February 15, 2013.
The program runs June 24th—August 23rd 2013.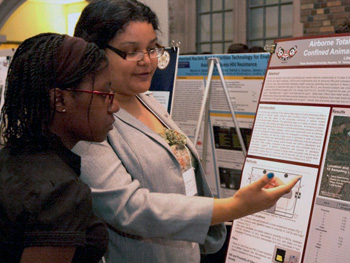 Visiting undergraduate student Lilian Turcios from Southern Texas University presents her research results at the Summer Research Symposium.
EHREP is made possible by a grant from the National Institute of Environmental Health Sciences (NIEHS). See the program website for more information and application details.